Five Reasons to Buy a Used Buick Enclave
Buick is a brand known for its fantastic lineup of luxurious, versatile SUVs. Drivers have come to love each and every model in the lineup, all the way from the Encore to the Envision. And with a track record like Buick's, many of the manufacturer's models have been rewarded for being exceptional and reasonably priced vehicles, including the Enclave. That said, these recognitions may be all the proof you need to know that buying a used Buick Enclave is a good choice. However, you should have some background knowledge regarding the SUV before jumping the gun.
The Enclave is the midsize SUV of the bunch and has been extremely popular in a very competitive segment of the market. So when you shop for a used Enclave, you get all of the premium benefits you would expect from a Buick at an even more affordable price. No search for a used midsize SUV is complete until you have considered the Enclave. To help you understand the pros of this great SUV, we at Rick Hendrick Buick GMC of Duluth have put together the following five reasons you should buy a used Buick Enclave. Let's get started!
#1 Excellent Performance
Perhaps the best thing about any Buick Enclave is its unbelievable performance. If you are looking at a model from the mid-2010s, the engine is a 3.6L V6 that can produce up to 288 hp and get anywhere from 17 MPG in the city up to 24 MPG on the highway. This blend of power and efficiency is just right and positions the Enclave well above the competitors for that time.
More recent used models, like the 2018 or 2019 Enclave – which, truthfully, can be a challenge to find – have an even more powerful engine that can generate up to 310 hp. Generally, when power increases, you would expect the efficiency to decrease, but not with the more recent Enclaves. The same 3.6L V6 has been upgraded and can now get anywhere from 18 MPG in the city all the way up to 26 MPG on the highway. No efficiency is lost due to power with the Enclave!
Plus, through all of the model years that you will want to consider, the Enclave has a number of different trims and drivetrains. You can choose between front-wheel drive and all-wheel drive, and every Enclave has an automatic transmission. Buying used does not have to mean getting an antiquated vehicle; the Enclave is proof of that. Very few midsize SUVs have done as masterful a job as Buick has with the Enclave of combining ample power with responsible efficiency. This factor alone makes a used Enclave an extremely compelling option.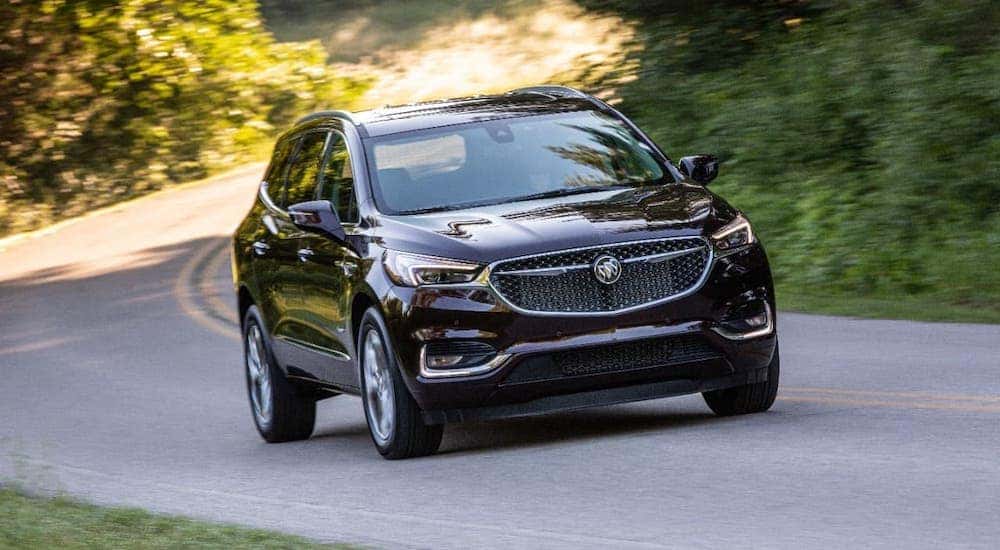 #2 A Roomy, Functional Cabin
One of the nice things about midsize SUVs is that they have a third row of seats so you can fit up to seven passengers. This has the potential to not only be more convenient but also helps to decrease your carbon footprint even more. How? Well, a group that would need two crossovers or compact SUVs can all fit in one midsize SUV, resulting in the need for only one vehicle, rather than two.
The Enclave's third row and entire cabin structure are both roomy and stylish. This SUV can carry seven passengers with ease and offers each rider plenty of legroom. Additionally, if, instead of needing to haul people, you have a lot of cargo you need to move, the easy to use 60/40 fold down third row expands the cargo room considerably. You can also fold down the second row of seats to create a total cargo area that is an astonishing 97.6 cu.ft.
And the benefits of this cabin do not stop at the space. The infotainment system that can be found on many used Enclave models also gets high marks and makes for an even more convenient, connected, and enjoyable ride. This cabin alone is enough reason to find a used Enclave.
#3 Good Reliability Ratings
One thing you don't want to overlook when you are considering a used SUV is how reliable it is going to be. Some cars can be had at a bargain because they aren't going to last very long and will only be a headache, requiring constant maintenance.
The Enclave, though, has been rated an extremely reliable midsize SUV and is sure to keep going strong long after you buy it. In addition to being reliable, the cost to own and operate a used Enclave is very reasonable and makes the entire ownership experience as hassle-free as possible.
#4 Safety and Convenience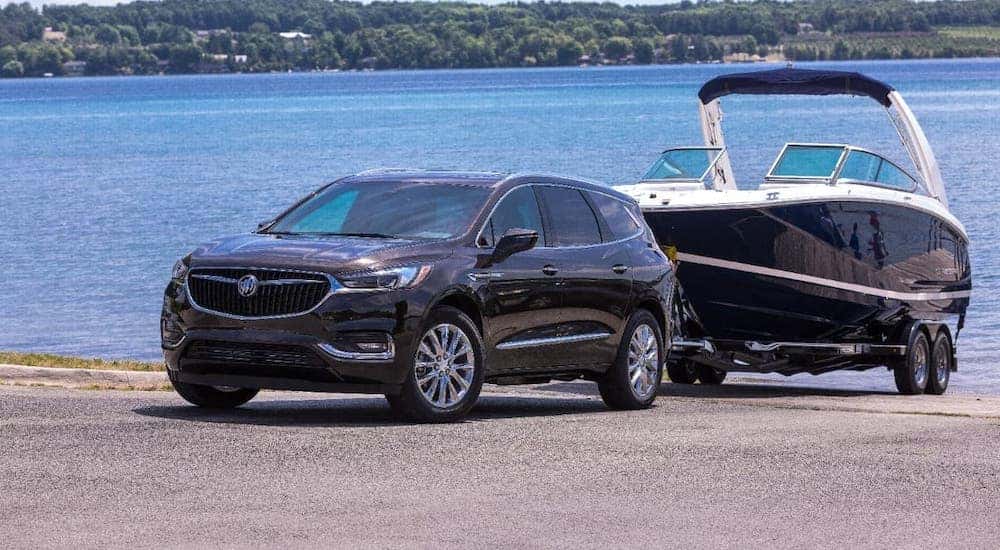 What really sets the Enclave apart is its wide array of safety features and convenience-enhancing technologies. The Avenir trim, in particular, is known to have all the bells and whistles. If you can find a quality used Enclave Avenir, you might be able to get an SUV with features many current models of other midsize SUVs don't have.
The 2018 Enclave Avenir, for example, has a suite of driver-assist technologies that make it an extremely safe vehicle to drive. At the top of the list is lane departure warning with lane-keep assist, which alerts you if the vehicle is drifting into oncoming traffic and, in some cases, can actually begin to gently move the vehicle back into its own lane. The blind-spot monitor and cross-traffic alert also let you know when there is either a car or pedestrian in a hard to see spot.
There are also numerous technologies that make the 2018 Enclave Avenir both convenient and luxurious. The remote start lets you get things started from the comfort of your home, while the hands-free liftgate makes loading and unloading a breeze. The Adaptive Cruise Control is also a great feature and keeps you a predetermined distance from the car in front of you. Finally, the rear parking aid and back-up camera take the stress out of driving in reverse and fitting into tight spots.
Overall, the long list of safety features and convenience technologies is sure to impress, especially on the used market.
#5 Luxury at an Affordable Price
What completes the package of the Enclave is the price. There are very few midsize SUVs that come with all of the above features with the same style and luxurious touches and finishes as the Enclave. On the inside and out, with an Enclave from any year, you get a look and feel that is simply on another level.
If you are looking at a 2018 Enclave, you can get tons of modern features and performance for an average price in the upper $20,000 range. Of course, this is dependent on the condition of the vehicle, the trim, and how many miles it has. However, either way, the price is fantastic. Plus, as you would expect, the farther back you go, the better the price. If you are willing to go back to 2015 and look at a base model, you can get an Enclave in the mid $10,000 range and still get many modern features.
The possibility of having excellent performance, a roomy, functional cabin, fantastic reliability, and unbeatable safety, all for these affordable prices, is almost unimaginable.