Buick SUVs – Atlanta, GA
In a world of SUVs, there are many choices to suit various lifestyles and needs. In their infancy, they catered more toward the true outdoorsy person who emphasized the "sport" part of the acronym as they packed up their camping gear or hooked up the boat or trailer. But since then, SUVs have become a sizable segment of the US auto market, and automakers have responded by making them an equal mix of utility and luxury. This equation is especially true for Buick SUVs, which provide bold designs, unmatched luxury, and an aura of sophistication unequaled in competing brands.
Ranging from room for 5 to 7 people, Buick SUVs are well known to buyers who are seeking reliability, comfort, and luxury options as well as advanced safety features to keep both you and your passengers out of danger. Built upon a solid design and engineering foundation from one of the oldest automobile manufacturers in the country, Buick's SUVs offer plenty of options for drivers who are looking for utility without the bulk all the way up to vehicles that can haul a whole family and all of their gear.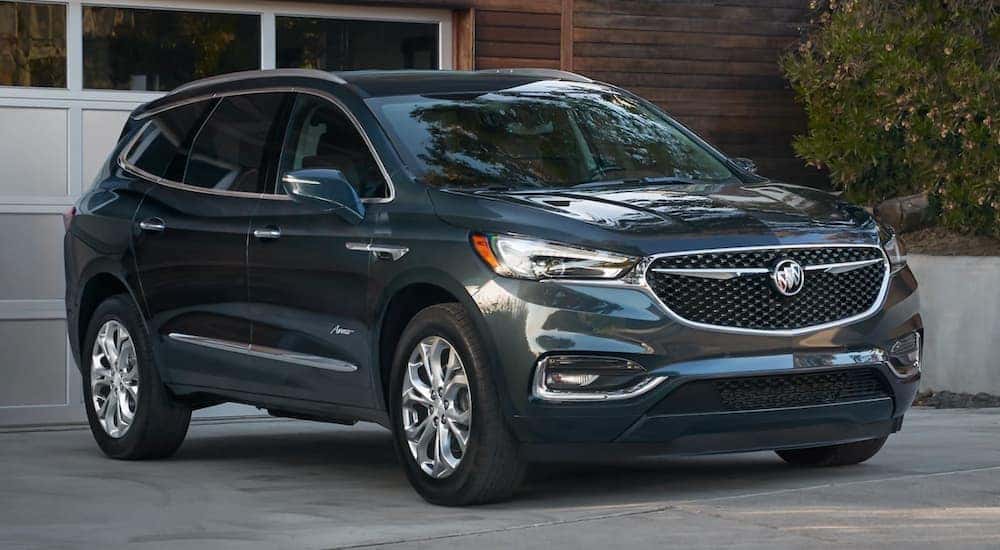 The Buick brand
Buick has been a trusted brand for generations with a longstanding reputation for quality and reliability. It is one of the oldest automotive brands in the world and the oldest in America. Positioned in between the mainstream and more high-end luxury brands, drivers can expect Buick models to be upscale and well-refined, with exceptional craftsmanship inside and out. This not only applies to their sedans but to their complete selection of SUVs as well.
Founded by David Dunbar Buick in 1899 as the Buick Auto-Vim and Power Company, Buick has been around nearly as long as there have been automobiles on the road. Right from the beginning, the company has been ahead of the pack for innovation in automotive design and technology, having received a patent in 1903 for the world's first production overhead internal combustion. Other achievements included manufacturing the first closed-body car in 1911 while also establishing the forerunner to today's manual transmission across its lineup. By the late 1930s, Buicks became so popular that even King Edward VIII of the British royal family was driving one.
In all the years that Buick has been making automobiles, styles have changed drastically, but Buick vehicles still have some lasting design features from their early days, which still carry over to the modern era. For example, the iconic Buick tri-shield logo is based on original founder David Dunbar's ancestral coat of arms, and the wide taillights have been a design trademark since the 1960s. In addition, a long curved trim line that runs almost the entire length of the vehicle, known as the sweep spear, was first introduced in 1949. No matter how one looks at a Buick, there's no mistaking its unique and sophisticated style.
2020 Buick Models
2020 Encore

The smallest entry into Buick's extended list of crossovers and Buick SUVs is the Encore. The Encore provides the handling of a sedan with the safety of an SUV. This five-seat crossover provides several improvements over a smaller sedan, including cargo space of 48.4 cubic feet and a stylish, comfortable ride. It also has a low MSRP starting at $23,200 with fuel economy at 25 mpg in the city and 30 mpg on the highway. When plenty of trim options to choose from, this might be the smallest of the SUVs available through Buick, but there are enough options to fully make it your own. Plus, with two upgraded trim packages coming later in the spring, you'll see there is, even more, to love with the Buick Encore than ever before.
2020 Regal TourX
The Regal TourX is part SUV part station wagon. It has a longer body with additional storage in the rear to help maximize your cargo space. In fact, at 73.5 cubic feet of cargo space, the Regal TourX has more available cargo space than most other crossover SUVs. This is the vehicle to go with if you want the full storage capacity of a larger SUV, but you like to sit lower to the ground and have a profile that is similar to that of a traditional sedan. It's truly the best of both worlds. It also comes in all-wheel drive to improve your handling on dirt and slick roads, all while still giving you a solid 29 mpg on the highway. Add in a number of the trim options, and this vehicle is designed to be the perfect family travel crossover. When you can't decide between a car or an SUV, this is the exact vehicle you need to test drive and call your own.
2020 Envision
If you want something that has a bit more size than the Encore but like the look of the crossover, the 2020 Envision may just be the perfect SUV for you. This 5-seat crossover has a max cargo space of 57.3 cubic feet and offers a bit more leg and headroom for passengers than the smaller Encore. And despite the increased size, this SUV is still able to help save you money at the pump with 29 miles per gallon on the highway. As the perfect bridge between the crossover SUVs and into the world of full-size SUVs, Envision has several trim packages, allowing you to find the design best suited for your needs.

2020 Enclave
When you want an SUV for the entire family, and you don't want to compromise, the 2020 Enclave is the SUV to consider. With the ability to seat up to 7 passengers while towing up to 5,000 pounds, this SUV is built to handle everything you might throw at it (and more). And despite the larger design, it is still able to hit 26 miles per gallon on the highway. With the standard 3.6L V6 engine that produces 310 horsepower, you'll have the kind of power you need to navigate traffic, all while remaining museum-quiet on the interior, all thanks to the QuietTuning Technology. With several design features you won't find on other Buicks, this larger SUV is the king of Buick luxury and the ultimate SUV when you want style and sophistication in your daily drive.
The 2020 Avenir Line
If you like the Enclave but would like to add some additional touches of sophistication and elegance, the Enclave Avenir package allows you to do just that. With the Avenir edition, your Enclave receives all the upgrades of top-level trims, plus an exclusive grille, 20-inch aluminum wheels featuring a pearl nickel finish, not to mention three rows of some of the most beautifully appointed leather seats you've ever seen. You have the choice between chestnut or ebony interiors. These added luxury touches help take your beautiful ride to another level. Plus, small features like wireless smartphone charging, upgraded suspension for a smoother ride, and industry-leading safety features to give you the best ride possible. It takes the luxury you expect from a Buick and amplifies it in every way.
The 2020 Regal doesn't only come as a GS sport trim. You can also upgrade it to the Avenir line as well. With the 2.0L Turbo engine, you'll be able to fully take advantage of both sport and luxury, all wrapped into one vehicle. With the Regal Avenir, you will share many of the upgraded features as the Enclave. Some of the touches are slightly different, though, to help maintain the specific look of the Regal. This includes a beautiful, quilt-stitched leather-appointed seating that is contrasted with French seam stitching. This feature is exclusive to the Regal Avenir. Internal color tones on the Regal Avenir come in both whisper beige and ebony. All of this, plus the signature plates, grille, wheels, and everything else you've come to expect from these beautifully designed, high-end Buicks.

2020 Encore GX/ST
In the spring of 2020, you will be introduced to the first-ever Encore GX/ST. This takes the look of the current Encore and gives it a far more aggressive trim design. It will be available in both an Encore GX and an Encore GX with Sport Touring Package later in 2020.
Each of the two GX and Sport Touring Package designs come with something special for individual drivers. The Encore GX is designed for go-getters and tech lovers. It has a hands-free power liftgate, allowing you to access the rear of your vehicle without fumbling with keys. The premium lighting improves visibility, and yet during the day, the lights look almost chrome, giving you an added touch of elegance. Then, when the sun goes down, the lights will come up as if the lighting was hidden in plain sight.
The GX with Sport Touring Package will likely become the boldest looking vehicle in the Buick lineup. It uses a two-tone color design on the grille, which gives it an aggressive, yet stylish look to it (with the undersides of the grille painted red and the front of the grille painted black, there is a unique styling here that isn't found on any other Buick vehicle).
On the Sport Touring Package, the SUV comes standard with roof rails, so you can easily attach anything from bicycles to a kayak. While walking around the SUV, you'll also find there are sleek, streamlined elements to the doors and body. This is designed to help improve the airflow around the vehicle, giving you a smoother ride. The SUV will also come with a number of features, including wireless charging, an available head-up display, so you can see important information projected in front of you on your windshield. There is also an available rear camera mirror, which allows you to see a less obstructed field of view behind you while driving. All of this comes together with the Buick Infotainment System.
When you're someone who loves the great outdoors and is looking for an SUV that can handle your gear (and in many ways is built specifically for your gear), the GX with the Sport Touring Package is the SUV for you.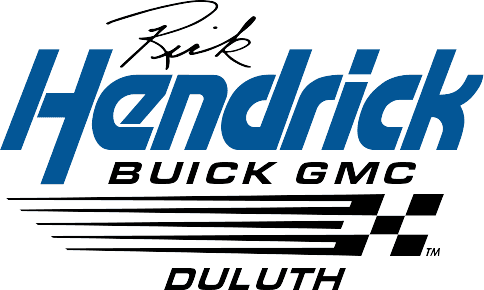 Which Buick SUV is right for you?
If you still need help deciding which Buick SUV is the perfect one for your needs, we can help. Rick Hendrick Buick GMC Duluth provides the best value and service for Buick drivers in the Atlanta region. Aside from our knowledgeable and professional staff who can answer any questions you might have, our facility is state of the art and provides a modern and upscale service department, quick lube center, and a collision center.
We are a part of the Hendrick Automotive Group, one of the largest and most successful automotive dealer groups in America. Our knowledgeable sales team is here to find you the perfect new, used, or Certified Pre-Owned vehicle, whether that be a new Buick SUV or used Mercedes-Benz. Whatever you are in the market for, our team will help you find the perfect vehicle for you. We are open Monday through Saturday, from 9:00 AM to 8:00 PM; we are even open on Sundays from 12:00 PM to 6:00 PM
Once you've found the perfect vehicle, you can come back for your vehicle's routine maintenance and for any repairs you may need at our certified service center. The service center is open Monday through Friday, 7:00 AM to 7:00 PM, and on Saturdays, 7:00 AM to 5:00 PM
Give us a call or stop in to see us at our dealership in Duluth, less than an hour's drive from Atlanta, to test drive any of Buick's lineup of quality SUVs. Our staff is waiting to assist you. You'll find us at 3244 Commerce Ave NW in Duluth, GA. Let our team at Rick Hendrick Buick GMC Buford find the right Buick SUV for you! Visit us today!