What's So Great About Buick?
There are so many options for luxury cars available to car shoppers today, so how are you supposed to choose? Buick is a popular choice, but why? How do you determine which luxury vehicle is best for you? The easiest way to decide on the right car for you is by visiting your local Atlanta Buick Dealer and taking a look at all the luxury Buicks available. Rub your hands along these high-end cars and take them for a test drive. See for yourself why so many people have been loyal to Buick for so long.
As a car brand, Buick has been around for more than 100 years, and that doesn't seem to be changing anytime soon. To be more specific, Buick, as we know it, was founded in 1903 and is considered to be one of the oldest automotive companies still in operation today. Buick is owned by General Motors and has long been considered one of the best made American car brands in existence. Now that's all fine and dandy, but what does that have to do with you, and why should you let that affect your car-buying decisions?
A Brief History of Buick
When you've been around as long as Buick has, you're sure to have seen a lot of innovative decisions come down the lines. In fact, Buick has been at the head of a lot of revolutionary ideas, and we owe a lot of our modern car designs to the folks behind the Buick. One of these ideas was the introduction of the closed body car. If it weren't for Buick, we'd still be driving around with our arms and legs hanging out of the open vehicle. (Although if you're a Jeep fan, this might not be such a bad thing.)
The first turn signals were introduced by Buick, and now this is a feature that every single street-legal car in America has to include. Automatic transmissions are also around thanks to Buick, and while some of us still reminisce about the beloved stick shift, we can all admit that we are grateful automatic transmissions came along. Buick has definitely made their mark on the automotive industry, that's for sure.
Buick was the holder of the patent for the first production overhead valve internal combustion engine. Both the V6 and V8 engines that are so popular today were also popularized by Buick's usage of them. Besides having a long history of being a luxurious and sophisticated car brand, Buick has made its mark on history, and every vehicle you drive today has been affected by this innovative brand.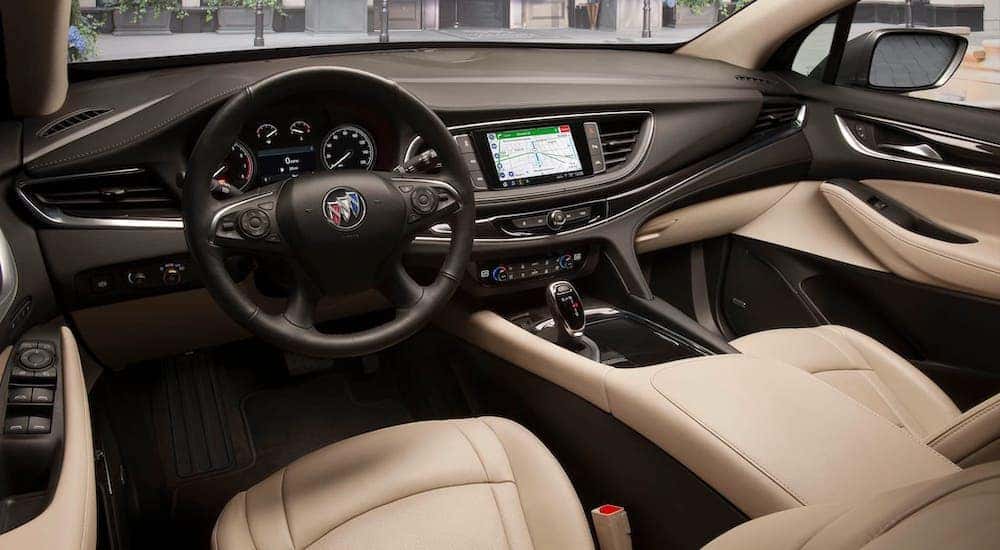 Why Should You Purchase a New Buick Model?
So what do today's new Buick models offer that continue to make these vehicles so enticing to car shoppers? For starters, you can expect any new Buick model you buy to be one of the most comfortable vehicles you have ever ridden in. With a Buick, you are not just getting the features you need to drive around town safely; you are getting those extra little touches that truly make your ride memorable. While a regular car gives you the bare necessities, Buick goes above and beyond.
Whereas a regular car might offer you cloth seats or low-end leather (or even pleather) seats, a high-end Buick will give you magnificent leather seats. This high-end leather not only gives your car the look of being sophisticated, but you will be able to physically feel the difference. Similarly, a typical vehicle will offer a basic plastic steering wheel, whereas a Buick might offer a leather-wrapped steering wheel that automatically heats and warms your hands while you're driving. It's these special touches that truly make owning a Buick worthwhile.
When you buy a new Buick, you are buying a piece of the American Dream. Premium safety features are introduced into luxury models long before they make it into more traditional vehicles. Tech and audio features are also seen in Buicks before they are seen elsewhere. If you want to be on the front end of car innovation, or if you get a kick out of not only keeping up with The Jones' but rather staying way ahead of them, then a new Buick model is going to be the perfect model for you.
Buick Warranty
When you purchase a new Buick, you are also getting a fabulous warranty, so you can rest assured that your new vehicle will last for a good, long time. New 2020/2021 Buicks come with a 3-year or 36,000-mile bumper-to-bumper limited warranty, which means that anything that happens to your new Buick before you hit the 3-year or the 36,000-mile mark is covered. You don't have to worry about accidentally ending up with a lemon of a car or about any unexpected problems your car might experience. This limited warranty also comes with corrosion coverage.
Your new Buick also comes with a 5-year or 60,000-mile powertrain limited warranty. This means that if anything goes wrong with your powertrain, including your propulsion and drivetrain system, you can get your vehicle fixed at no cost (including no deductible) to you. It's all a part of the Buick luxury experience.
Your warranty also comes with 24/7 emergency roadside assistance, so if you ever run out of gas at the side of the road or you need some assistance with a flat tire, a tech will come and help you out so you can be on your way again as quickly as possible. Or should you ever need to leave your car in the shop overnight for some reason, Buick's warranty will take care of transporting you to and from the service center. Now you don't need to worry about juggling multiple drivers and schedules in order to pick up or drop off your Buick.
Keep in mind this warranty does not cover any damage that happens as a result of a car accident. This also does not include regular maintenance, such as oil changes or fluid checks. However, parts and labor that come along with minor repairs and defects are covered.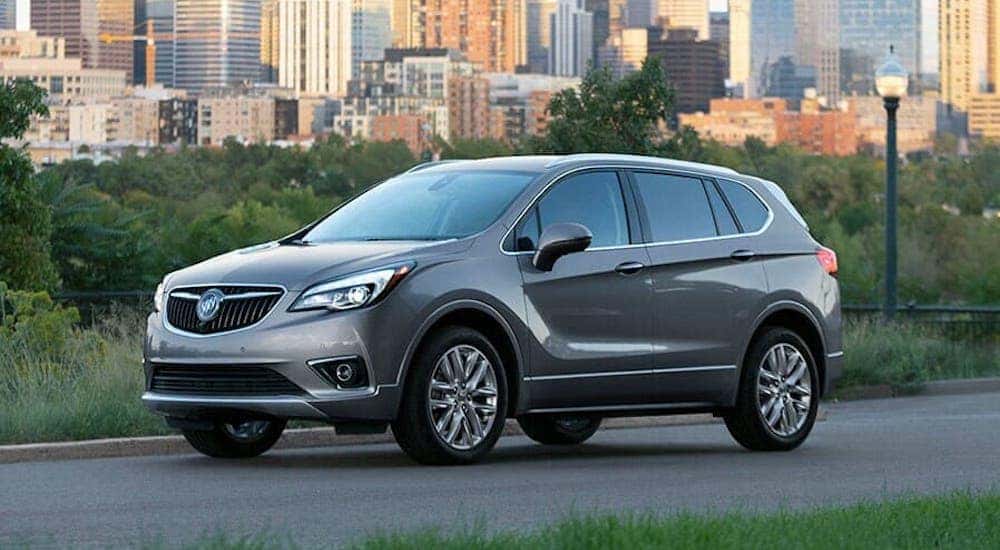 Find Your New Buick at Your Favorite Atlanta Buick Dealer
When you're ready to get your hands on some of the most magnificent cars on the road today, head on down to your local Atlanta Buick dealer. When it comes to high-end luxury cars, pictures and words online just can't do them justice. This is the kind of car you need to see and experience for yourself.
So come on down and sit in a plush leather seat. Feel that heated, leather-wrapped steering wheel for yourself and see what all the fuss is about. Charge your phone in the wireless charger stations that many Buicks offer or give a premium stereo system a listen.
When you're ready to commit and drive away in your own personal piece of the American Dream, know that your deluxe experience doesn't end there. Buick has more than 100 years of history covering the backs of their valued customers. With that kind of track record, you know you're in good hands, and so is your new car. So don't walk; run on down to your local Buick dealer and find your dream car today!