The Four 2019 GMC Trucks You Need to Be Excited About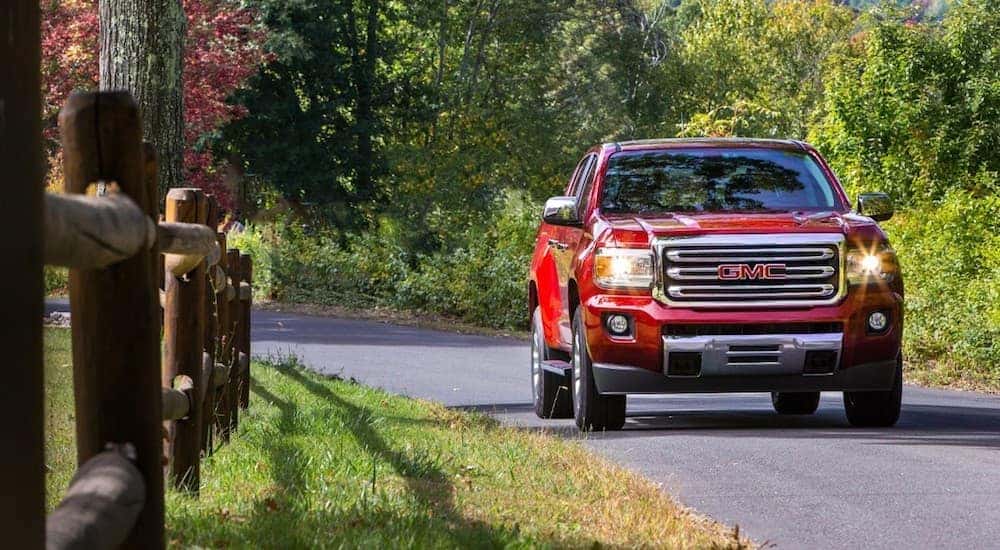 2019 is going to be a good year for GMC trucks thanks to solid designs, bold and powerful mechanical choices, and all the trim options you could possibly want. With four great models hitting the road, there is something for pretty much everyone: whether you want a small pickup to get simple jobs done, or need a heavy duty beast to haul massive loads of lumber, there's a GMC truck with your name on it.
The 2019 GMC Canyon is the best place to start, with solid trim options, a small and sleek design that makes it a perfect fit for just about anyone, and plenty of power for towing a small trailer. Then there's the next generation GMC Sierra, which has six different trim options to make it an ideal choice no matter what you're looking for. Of course, what you might be looking for is incredible power and performance, at which point the GMC Sierra 2500HD steps in to get the job done, and handle anything you throw at it. And if you need a truck that stands out as one of the most powerful vehicles on the road, then the 2019 GMC Sierra 3500HD is the way to go.
The 2019 GMC Canyon – Small Size, Big Performance
When a lot of people think of a pickup truck, they picture a massive heavy-duty beast that can haul a tank behind it and still have room for a cooler. While those kinds of GMC trucks are great for the people who need them, there is still a place for a well-made small pickup that can get a lot of work done without being too big to fit into most people's lives. That's where the 2019 GMC Canyon comes in by delivering great performance and solid options, without leaving your driveway bursting at the seams.
Regarding size, it only takes a moment to see how well designed the GMC Canyon is. The total length of the Canyon is just over 212 inches long. That might seem pretty big, but for a pickup truck it really isn't. That's almost four feet shorter than the full-size GMC Sierra 3500HD with a long box, which makes a big difference if you have tight quarters to work with.
But that smaller size doesn't come at the sacrifice of great power and trim options. You can choose a short box or a long box with this truck, and there's even an extended cab if you want more interior space. There are options for 4WD or 2WD, and three different engines to choose from, including a 3.6L V6 that offers 308hp and 275 lb.-ft. of torque. Maximum payload is up to 1,605 lbs. and towing capacity with the GMC Canyon can reach up to 7,700 lbs.
The 2019 GMC Sierra – Something for Everyone
If you approach trucks the way Goldilocks approached porridge (and who doesn't?), then the GMC Sierra is that "just right" middle way that fits the widest range of lifestyles. Larger than the GMC Canyon, but not as intense as the heavy-duty series, the base Sierra has something for everyone. On top of that, the 2019 GMC Sierra has six different trim options to choose from, so no matter what you're looking for, there is a Sierra you can customize to perfectly fit your needs.
When it comes to power, the Sierra comes out swinging with five different engine options, including a 6.2L EcoTec3 V8 engine that provides 420hp and 460 lb.-ft. of torque. All that impressive power offers up some of the best towing capacity for a non-heavy-duty pickup, topping out at more than 12,000 lbs. if properly equipped. The maximum payload on the GMC Sierra is 2,160 lbs. with capacity for up to 6 people, who will have plenty of leg room whether in the front or rear seats.
Even with impressive performance and muscle behind it, where the 2019 GMC Sierra really shines is customization. There are six trim options to choose from, including the baseline Sierra, the SLE, the Elevation, and the always-impressive Denali. All of these options means there is something for just about everyone in the Sierra lineup – whether you want the AT4 and its off-road suspension and higher lift for off-roading, or you're interested in the unmatched luxury of the Denali.
The 2019 GMC Sierra 2500HD – The Workhorse that Knows how to Play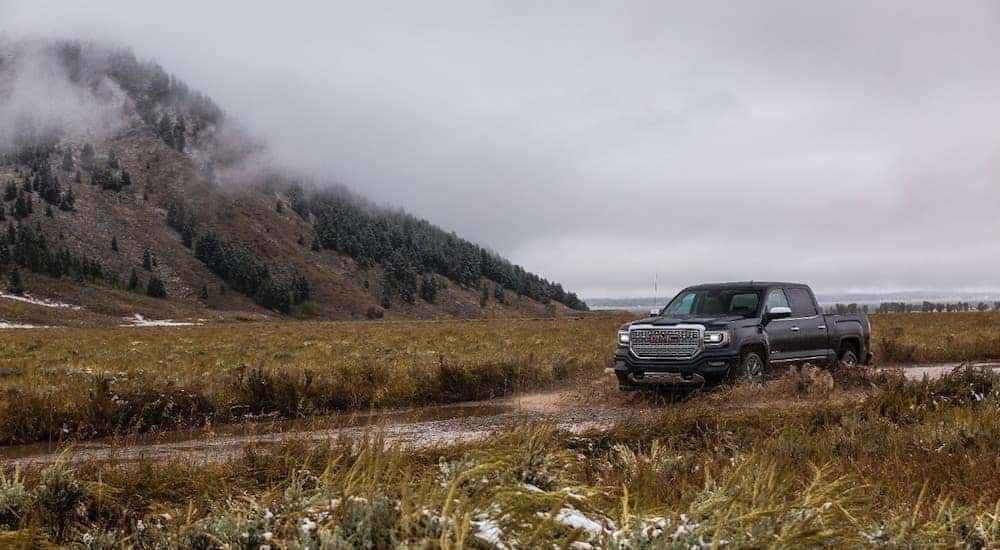 When the power and towing capacity of the baseline Sierra isn't enough, then it's time to step up to the 2019 GMC Sierra 2500HD. There's no doubt this is a heavy-duty pickup, designed and built from the tires up to handle just about any task you can imagine. Available in either a crew cab or double cab design, with a standard or long box, there are plenty of options to choose from with the 2500HD to make sure it is exactly what you need.
The beating heart of the 2500HD is the available Duramax 6.6L Turbo-Diesel V8 engine, which offers 445hp and 910 lb.-ft. of torque. This thing is an absolute beauty and as good as it gets for power in GMC trucks. Properly outfitted, the 2500HD can handle a maximum payload of over 3,000 lbs. with a max GVWR of 10,000 lbs. and up to 14,500 lbs. of towing capacity with conventional trailering. With a fifth-wheel or gooseneck trailer setup, that rating goes up to over 15,000 lbs.
There are four different trim options to choose from with the Sierra 2500HD, creating plenty of opportunities for customization and improvements. The baseline Sierra is great in its own right, but the SLE and SLT trim levels provide impressive options like integrated trailer brake controls, remote keyless entry and starter, and more. For the optimal level of luxury, however, the Sierra 2500HD Denali just can't be beaten, thanks to heated and ventilated leather-appointed front bucket seats, front and rear parking assist, and a Bose 7-speaker audio system.
The 2019 GMC Sierra 3500HD – Unmatched Power and Performance
For those of us who need the absolute highest level of power from our GMC trucks, there is the 2019 GMC Sierra 3500HD. The 3500HD truly defines what a heavy-duty pickup can be, and includes options for both standard or long boxes, as well as either single or dual rear wheel configurations. This gives you choices to consider based on how much cargo you plan on piling into the back of your truck, and how much towing capacity you need.
A heavy-duty truck needs heavy-duty power, which comes from the available Duramax 6.6L Turbo-Diesel V8 engine that provides 445hp and 910 lb.-ft. of torque. What kind of performance does that give? Over 6,000 lbs. maximum payload, more than 13,000 lbs. max GVWR, and up to 20,000 lbs. conventional trailer capacity. With a fifth-wheel or gooseneck setup, the maximum rating goes to more than 23,000 lbs. This beast can haul just about anything you throw at it, whether it's a load of lumber in the bed, or a trailer full of tailgating supplies and coolers.
But all that power doesn't come at the expense of luxury options. The 3500HD has great trim options, just like other GMC trucks. There are eight options in total, consisting of four different trim levels that can be chosen for either single or dual rear wheel configurations. These include the baseline 3500HD, SLE and SLT trim levels, and the beautiful Denali option. No matter what you want out of your truck, you'll find it within these trim choices.