GMC Trucks – Atlanta, GA


A GMC truck isn't just any other truck. It is a truck built for the workplace and built for those pickup lovers who want additional luxury. The lifeblood of General Motors pumps through both GMC trucks and Chevy pickups. The big difference, though, is GMC trucks often feature newer technology and high-end features, especially in the world-class Denali.
But the real difference is experienced when you sit behind the wheel of a GMC truck. There is a tangible feeling when you sit in the driver's seat and wrap your hands around the steering wheel. It's truly something special. Here at Rick Hendrick Buick GMC Duluth, we specialize in offering the best of the best trucks, and we can't wait to introduce you to your next truck.


New GMC TrucksFinanceAbout Us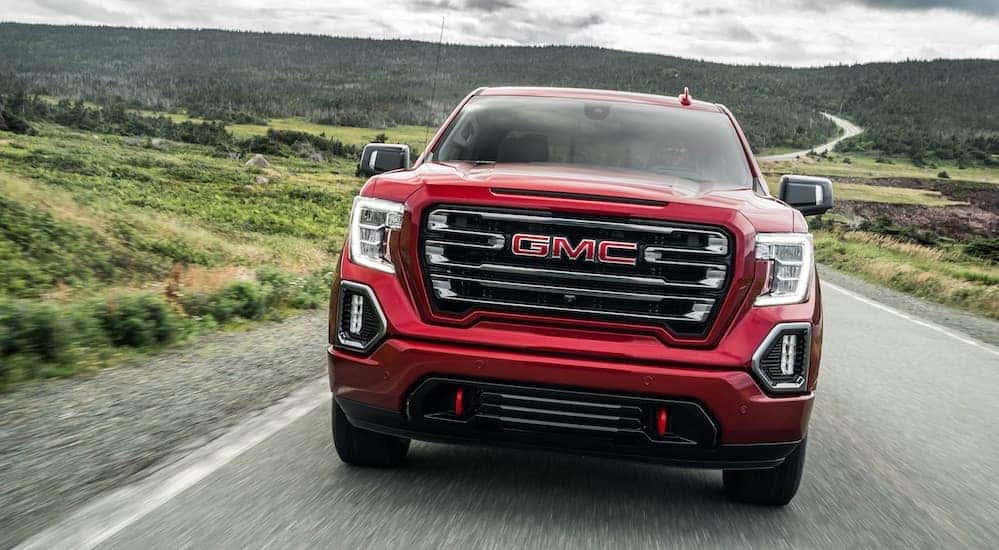 A Celebrated Legacy
The story of GMC trucks traces back to the earliest days of the 20th century, with General Motors folding two other automakers into its own truck company, and renaming it GMC. Production facilities would be set up strategically throughout the country (MI, MO and CA respectively) with further growth and solidification to follow. And while such worthy competitors as Ford and Dodge (along with GMC' own sibling, Chevy) would spread their focus across all automotive segments, GMC would remain faithful to its truck-centric origins well into the 1990's.
The gradual refocus of GMC, centered around upmarket trucks and SUVs, would prove a perfect recipe for continued success into the new millennium. And whether you're searching for the perfect new, used or certified pre-owned GMC truck, Rick Hendrick Buick GMC can help. With well over 1,000 trucks available for you to choose from we welcome you to explore our online inventory (at your convenience) or visit us in person. We're confident that we have the right GMC truck for you, but want you to discover the 'Hendrick difference' on your time, and on your terms.
That said, let's take a few minutes to focus on each of the individual offerings for GMC trucks, and why they're so successful at earning and retaining such unparalleled consumer loyalty.
What's Great About GMC Trucks
GMC knows owning a pickup is not a one-size-fits-all kind of thing. When you own a pickup, you own it for a reason. Perhaps you want something larger to tow your boat up to Lake Lanier, or maybe you're considering a drive down to Savannah, and you want something a bit smaller that can fit on the cobblestone streets. Then there are the workers who rely on a heavy-duty pickup for hauling massive payloads and gear. Whatever your needs are, there is a GMC truck for you.
The GMC Canyon is the light-duty pickup and the smallest of the bunch. However, while it might be smaller in frame than the full-size pickups, it still can handle your everyday life. With the ability to tow up to 7,700 pounds, the Canyon is the perfect truck for when you don't need anything extremely large, and you want the ability to tow and carry what you need, but you don't envision yourself ever needing to haul horse trailers or massive campers.
The next step up is the Sierra 1500. This is the full-size pickup that is industry-leading and award-winning. Plus, the ability to tow over 12,000 pounds is a nice offering as well. Unless you're looking for a truck that is designed specifically for extreme towing, the Sierra 1500 and its varying trims is the kind of truck that's perfect for you.
Of course, if you need major towing for work or for the extremely big toys in your life, there is the Sierra Heavy Duty 2500HD and 3500HD. These trucks mean serious business. The 2500HD can tow up to 18,500 pounds, while the 3500HD can tow up to 35,500 pounds.

100 Years And Going Strong
The history of GMC Trucks dates back well over 100 years. Officially General Motors Company started in 1911, but the companies themselves date back even further. In 1902, Rapid Motor Vehicle Company, based in Grand Rapids, Michigan, started up and focused specifically on commercial trucks. The company had success with a two-cylinder, 15 horsepower truck, but the brothers that owned the company didn't have the kind of financial assets to expand. This is when General Motors stepped in.
General Motors incorporated Rapid in 1904, and by 1908 General Motors had purchased all of the Rapid Motor Vehicle Company's shares. In 1909, GM bought out Rapid, as well as another company called Reliance Motor Company. GM wanted to keep the line separate from the Chevrolet line, so in 1911 it merged Rapid and Reliance to create the General Motors Truck Company. The following year, General Motors released the first official GMC Truck at the annual New York Auto Show. By 1913, General Motors sold the first mass-produced pickup, which sold 22,000 units at the time.
Since then, GMC has continued to evolve into what we have today. Both the Canyon and the Sierra can draw direct bloodlines to those original pickups sold over 100 years ago. And while we've come a long (long) way from 15 horsepower engines, the trucks are still used for getting jobs done right.
GMC Trucks Off-Road
There's just nothing like taking your truck off-roading. It's like taking your dog to the park and letting him off his leash. The way the dog runs, it reminds you of how it was supposed to be. That's exactly what it's like with a truck going off-roading. Taking trails and terrain other vehicles can't handle. There's nothing more pure pickup than that.
While the standard GMC trucks can take most road conditions, there are special off-road trims built by GMC. For the Sierra, this is the AT4. The AT4 offers high-end features, but there is hardware specially designed for hitting the trails. This includes underbody skid plates, upgraded wheels, front recovery hooks, specially designed cold air intake, performance exhaust system, and Rancho monotube shock absorbers. The truck is also lifted an additional two inches to give you more clearance.
For the Canyon, you'll want the All-Terrain pickup. While it doesn't have as many bells and whistles as the AT4, it does include 17-inch metallic cast-aluminum wheels, an off-road suspension package, and Duralife brake rotors.
GMC Trucks on the Jobsite
You can find plenty of GMC trucks ripe and ready for the jobsite. You can find the Sierra 1500 built with the basics to get you to and from jobsites filled with the equipment you need. GMC offers a wide array of styles for you to choose from, including trucks with a service body, a platform, and even a cutaway van. There is seemingly no limit to what you can do with a GMC work truck or van.
If you really need power, the Sierra 2500HD and 3500HD can offer some serious muscle. These trucks are perfect for the construction site where you need to tow heavy equipment around.
GMC Trucks Luxury
The big difference between Chevy and GMC pickups is the luxury touches, especially on the Denali. The Denali provides you with a refined interior that combines brushed aluminum and open-pore ash wood with high-end leather. Add in a multicolor head-up display that keeps your eyes on the road while going over vehicle performance and a massive touch-screen inside the cabin, and you have the ultimate in pickup luxury.
2020 GMC Canyon

With upgraded standard safety features such as the tire-fill alert, the 2020 GMC Canyon is a great option amongst the GMC trucks for folks who need to get tough jobs done. It can even be equipped with the optional remote-locking tailgate. Body styles vary depending on what you're looking for. You can get the regular cab that seats only two people, the extended cab that can carry four passengers, or the crew cab that can hold five. Two bed lengths and six trim levels are also available for you to choose from.
The Canyon SL is a bare-bones model that is powered by the smallest engine of the lot. Under the hood rests a 2.5-L 4-cylinder engine mated with a 6-speed automatic transmission. Together, they produce 200 hp and 191 lb-ft of torque. Although it is only available as an extended cab, it does not have any back seats. That extended area can be used for storage though. If you're not too impressed yet, hang in there. The infotainment system may pique your interest. Displayed on a 7-inch touchscreen, this smart interface is compatible with Apple CarPlay and Android Auto. It's not only good for audio streaming. Essentially, it turns your vehicle's infotainment system into your mobile device. The user-friendly interface allows you to navigate through apps like Waze, Spotify, Pandora, and so much more. Dual USB ports are also provided for charging your mobile devices.
Next is the base Canyon, which is, surprisingly, not the base model. It's a step up. Available as an extended or crew cab with rear seats of either, this truck includes remote keyless entry, cruise control, and the all-new remote-locking tailgate. You can also opt for the robust 3.6-L V6 engine paired with an 8-speed automatic transmission. This powertrain generates 308 hp and 275 lb-ft of torque.
Then we have the SLE version, which features a larger 8-inch touchscreen and a 4G LTE Wifi hotspot. You can stay connected to the outside world everywhere you go. Are you taking a camping trip? You can easily upload your photos to your social media accounts. No need to wait until you get back to civilization! The model can also be equipped with advanced safety features such as forward collision and lane-departure warning systems. Another option is a completely different powertrain. You can get the diesel 2.8-L 4-cylinder motor that pushes out 181 hp and 369 lb-ft of torque.
If you like to escape into the wild more often than others, you may want to look at the All Terrain model. This off-roading vehicle is ideal for adventures. Equipped with the previously mentioned V6 engine, a reinforced suspension, a rear locking differential, and 31-inch Goodyear Wrangler DuraTrac all-terrain tires, you can take this truck virtually anywhere.
The last two trims upgrade the Canyon into the realm of luxury. The SLT comes with a leather-clad cabin and a wireless charging pad that helps declutter the interior. Finally, the top-tier Denali features heated/cooled seating, a navigation system, a premium stereo, and a protective spray-in bedliner.
2020 GMC Sierra 1500

For folks searching for a light-duty pickup truck with plenty of upgraded features, the new 2020 GMC Sierra 1500 might be your best bet. It is also available in three body styles (regular, extended, and crew) to seat between two and five passengers. Various bed lengths and six trim levels allow you to customize the vehicle to your liking.
The base Sierra truck is powered by a robust 4.3-L V6 engine coupled with a 6-speed automatic transmission. Together, they push out 285 hp and 305 lb-ft of torque. The engine can also be upgraded to a 5.3L EcoTec3 V8 or a 2.7L Turbo. The infotainment interface is displayed on a 7-inch touchscreen that operates with Bluetooth connectivity and compatibility with Apple CarPlay and Android Auto. You can also view the backup camera video feed from this monitor.
Next is the SLE model, which is powered by a turbocharged 2.7-L 4-cylinder engine mated with an 8-speed automatic transmission. This powertrain generates 310 hp and 348 lb-ft of torque. At this level, you can also opt for the turbodiesel 3.0-L inline-six engine that produces 277 hp and 420 lb-ft of torque, or the 5.3L EcoTec3 V8 engine with DFM as well. Other upgrades include remote keyless entry and the larger 8-inch touchscreen. A bed-camera system can even be added to the cargo box for added protection. The third trim is called the Elevation. It is similarly equipped with a few added touches which include LED foglights, dual USB ports for the backseat, and a remote locking tailgate.
Under the hood of the SLT is a 5.3-L V8 engine paired with an 8-speed automatic transmission. Pushing out 355 hp and 383 lb-ft of torque, this model comes with a trailer brake controller, a locking rear differential, and the MultiPro configurable tailgate. Inside the cabin, you will notice upgrades such as heated/cooled front seats, heated back seats, and dual-zone climate control for comfort all year long. An optional powertrain at this level is the 6.2-liter V8 with a 10-speed automatic transmission that makes 420 hp and 460 lb-ft of torque.
The Sierra 1500 truck is available with enhanced off-roading capabilities with the AT4 trim. This includes a 2-inch suspension lift, monotube shock absorbers, skid plates, all-terrain tires, hill descent control, traction control, and 4WD.
Finally, the premium Denali version adds luxury features such as adaptive suspension dampers for a smoother ride and a 7-speaker Bose stereo system. Advanced safety system, including blindspot monitoring, rear cross-traffic alert, and parking sensors are standard at this level.
2020 GMC Sierra Heavy-Duty Trucks

Often referred to as 2500HD or 3500HD models, these heavy-duty giants can accomplish what others can't. Able to tow between 21,300 and 35,500 pounds (depending on the model), these land whales can handle anything thrown at them.
All trims can be powered by one of two powertrains. First is a 6.6-L V8 gasoline engine paired with a 6-speed automatic transmission that generates 401 hp and 464 lb-ft of torque. The other is a turbodiesel 6.6-L Duramax V8 motor mated with a 10-speed automatic transmission that pumps out 445 hp and a staggering 910 lb-ft of torque.
The base model is equipped similarly to other base models, with the main highlight being compatibility with Apple CarPlay and Android Auto. Stepping up to the SLE will add the Wifi hotspot and cruise control. Next is the SLT, which is considerably better with a larger 8-inch touchscreen, cruise control, MultiPro tailgate, and ProGrade Trailering package. For a raised suspension, pretty red tow hooks, and extra skid plates, you can opt for the AT4 off-roading version. Finally, the top-of-the-line Denali features premium leather seats that are heated and cooled, the Head UP Display, and a best-in-class surround-view camera system with 15 various camera angles. You can see everything that's happening outside the truck. This will help you to avoid any accidents while trying to park. The steering wheel is also heated at this level. The manufacturer certainly didn't sacrifice comfort and technology when packing these GMC trucks full of power.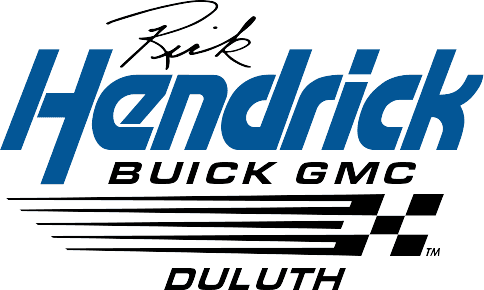 GMC Trucks at Rick Hendrick Buick GMC
Here at Rick Hendrick Buick GMC Duluth, we are just a stone's throw away from Atlanta. So whether you're in Marietta, Covington, Gainesville, or even all the way out in Rome, our staff here at Rick Hendrick Buick GMC Duluth strives to not only provide you with the best prices on the best vehicles around, but also the best customer service around. We know truck buying is a big deal, and you want to make sure you find the right pickup. That's why we use a no-pressure sales philosophy.
We are proud to sell GMC vehicles. As legendary in its history, as it is on the roads today, there's just nothing like the performance and luxury of a GMC truck. Interested in checking one out? We're open seven days a week so you can stop on by and we'll help you find what you're looking for. Not sure what that is? Just let us know what you need out of your truck, and together we can find the perfect one for you. So whatever your questions or your needs in a truck, let our staff here at Rick Hendrick Buick GMC Duluth help.