Engines and Towing Capability of the 2020 GMC Sierra 2500HD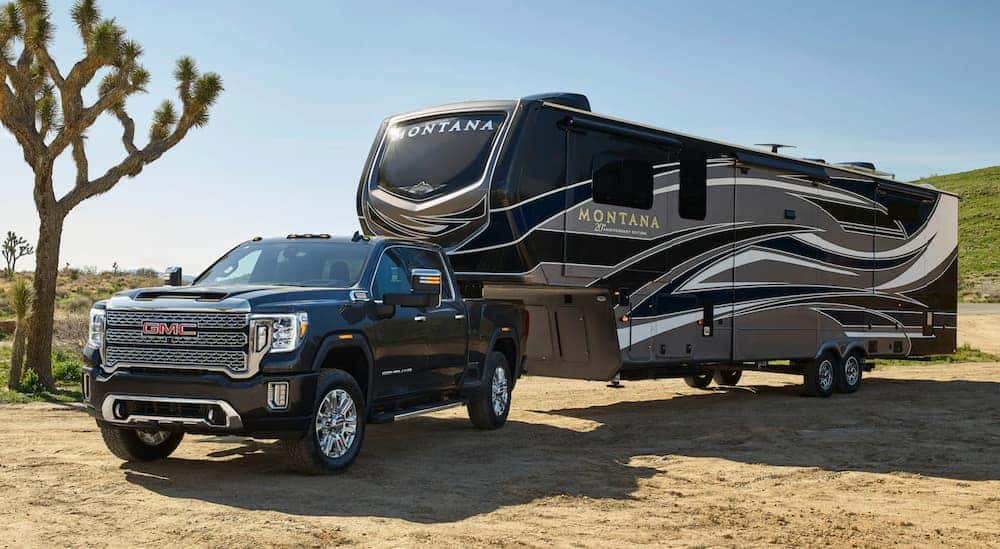 A GMC truck offers drivers unique features, powerful engines, and luxury all in one incredible package. In terms of capability, one model stands out for holding its own despite its impressive competitors: the 2020 GMC Sierra 2500HD. Here we will explore the powertrain and mighty towing brawn of a truck like no other. So let's get started by looking at some of the engines offered in the 2020 GMC Sierra 2500HD.
We will begin with the engine that comes standard for all trims of the 2020 Sierra 2500 line-up, a gasoline 6.6-liter V8 engine which puts out 401 hp and 464 lb-ft of torque. It's direct injection with variable valve timing and is paired with a six-speed automatic transmission that can be built with either rear-wheel or all-wheel drive.
With this gas-powered engine, the tow rating maxes out at 14,500 pounds with a conventional hitch on the 2500 SRW trim, which is built with a regular cab. A gooseneck hitch can handle 17,400 pounds, with a max payload of 3,997 pounds. When you add the weight of the crew cab, the tow rating still holds steady with the conventional hitch at 14,500 pounds but goes down slightly to 16,900 with the gooseneck. Max payload decreases somewhat to 3,862 pounds. Overall, this is one strong engine.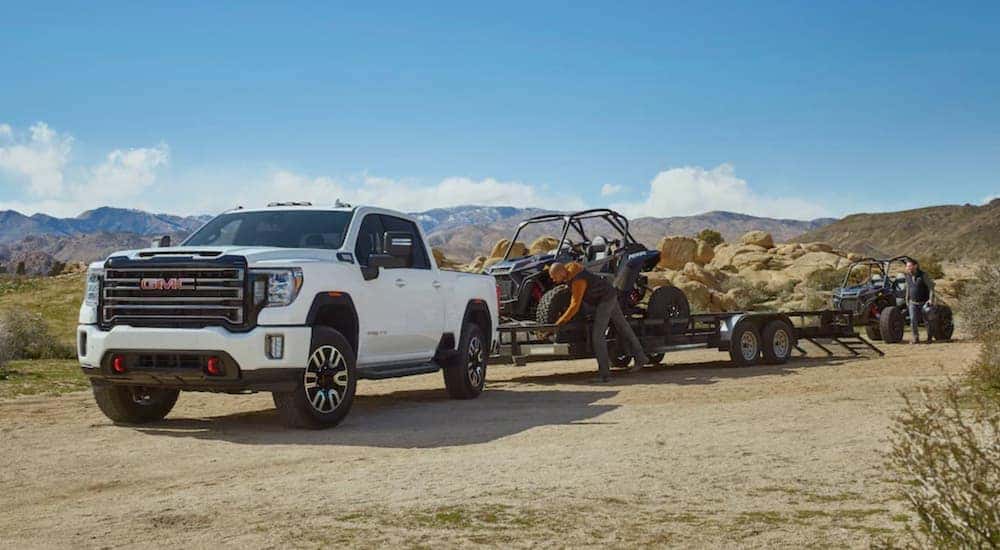 The Duramax 6.6-liter V8 Turbo Diesel
All trims are available with the 6.6-liter V8 turbo-diesel engine, which generates 445 hp and 910 lb-ft of torque, an increase of 19% over the previous generation. To keep the engine running smoothly, an engine block heater, exhaust brake, and after-run feature for cooling are utilized. Noteworthy on this redesigned engine is a quieter, smoother idle, which reduces the noise by 38%. And for convenience, the diesel exhaust fuel fill is located in the fuel door.
The diesel V8 is offered with the Alison 10-speed automatic transmission, which is electronically controlled with the overdrive feature. This provides a smoother shift, and when towing, it will reduce the shift cycling. With heavy loads, you'll have more control, and the cooling will be noticeably improved. Downhill grades will be handled readily with the automatic downshifting achieved through auto grade braking, which will slow the truck and reduce brake wear in towing and hauling modes.
Starting with the 2500 SRW trim with a crew cab, the max weight for towing with a conventional hitch tops out at 18,500 pounds. A fifth wheel can be accommodated by this powerhouse engine and will handle the same weight rating as the gooseneck at 18,500 pounds. A max payload of 3,597 pounds is the allowance for this trim. Even with the 2500 SRW regular cab, you'll be able to tow 14,500 pounds with a conventional hitch, and the gooseneck and fifth wheel hitches can handle 18,510 pounds with a max payload of 3,715 pounds. Again, this is very strong.
Towing and Trailering
If you purchase a truck with trailering or towing in mind, the SLE trim will be the lowest-priced model to have the ProGrade Trailering system available. After that, the SLT trim and beyond will have the trailering package included, along with a rear-view camera positioned over the hitch. Let's look at some other features that are available to make trailering and towing an almost magically easy experience.
The first set of features to look at is in the ProGrade Trailering package. This system utilizes several tech integrations to help make hooking up trailers a simple process. Behind the wheel, the driver will have an app accessed from the touchscreen in the dash to help keep track of important data, test the trailer lights, and track fuel economy. Organizational tools such as departure checklists, maintenance reminders, and storing the settings specific to your trailer (especially handy if you have more than one) make life on the road much easier. This app also integrates with your smartphone if it's compatible.
A smart trailer integration system utilizes onboard technology through the MyGMC app, which connects to compatible smartphones. This system can monitor water tank levels, HVAC, power slide-outs, and other features on your trailer if it is equipped with the right tech. With the help of this system, you can make sure you never begin your trip with forgotten slide-outs or empty tanks you meant to fill.
You can also get 15 camera views to assist the driver in keeping an eye on both the truck and trailer to keep both vehicles safer, especially when pulling into tight spaces or pulling out onto the road from a tight corner. Imagine being able to use a camera to see a full side view of your truck and trailer to make sure the entire vehicle clears when turning, or being able to use a camera to view the truck bed if high winds may have loosened tie-downs. Hitching your fifth-wheel or conventional trailer also becomes much easier when you can see whether or not your vehicle is lined up on the camera.
Speaking of the fifth-wheel hitches, GMC has an available gooseneck and fifth-wheel prep package, which incorporates many features, including a hitch platform in the truck bed for both types of trailers. The platform is installed with a tray to accept both ball and stamped bed holes, which come with removable caps to keep the hitch platform covered when you need the bed for cargo. It will also come with a bed-mounted seven-way trailer harness, and the wiring for two extra in-bed cameras to help make hooking up your trailer even easier.
And for those dicey moments, after you finally get the hitch to connect, you want to know your truck and trailer will stay put. An available electric parking brake will engage automatically after you put your vehicle into park. This will minimize unintentional rolling. Once you're ready to get on the road, the available steering assist can help you maneuver through parking lots, campgrounds, and other low-speed roadways by reducing the steering effort with assistive technology that keeps the truck and trailer centered on the road. It can also adapt to crowned road surfaces and will take on some of the steering work by correcting steering effort on long stretches of uneven road. It is important to note, though, that steering-assist is available only on the SLT trim level.
Another available option is the traction select system, which can switch between several modes to accommodate the driving circumstances and to optimize the powertrain's ability to calibrate. When you need to tow or haul heavy loads, the system will automatically engage traction and stability control to manage the weight differential. It will additionally store the settings of your trailer or load configuration for up to four hours after you shut off the vehicle, which means you won't have to recalibrate after a bathroom break or meal stop on the road.
2020 Sierra 2500HD Strength
The 2020 Sierra 2500HD indeed does the work for you when you need to tow or haul heavy loads. Now, with so many available technologies to assist drivers in the process of both hitching and hauling, truck owners have never enjoyed a more straightforward way to travel or work. Whether you plan to live the RV life or tow trailers for a living, the GMC Sierra 2500HD is a heavy-duty truck that will take the guesswork out of getting out on the road. All the handy technology you need is conveniently located in the command center of the dash, and no other truck can claim the same kind of power under the hood. If some or all of this sounds like something you want or need, call or visit us at Rick Hendrick Buick GMC Duluth and we will get you into the right vehicle for you.