An American Icon from Past to Present: GMC Trucks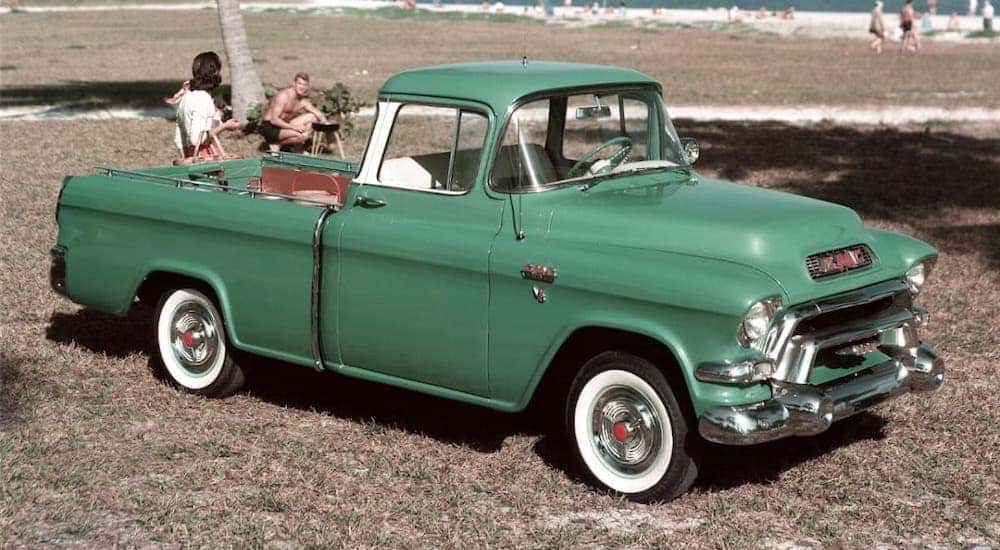 What immediately comes to mind when you think of the GMC brand? Do you think of its long history of building some of America's greatest and most reliable trucks? Perhaps GMC's newer lineup of cars, trucks, and SUVs come to mind. Whatever the case, GMC has a rich history and a stellar reputation in the American automotive industry. That's why we're proud to be your Atlanta truck dealer where you'll find a variety of America's best-selling new and used GMC trucks.
The History of the GMC Truck
Years before GMC came to fruition, Max Grabowsky of Detroit transformed his passion for trucks into a business venture when he built and sold his first model to the American Garment Cleaning Company in 1902 under the Grabowsky Motor Vehicle Company name. Later in the year, Rapid Motor Company picked up Grabowsky's line of trucks and spent the next two years producing 75 models from their Michigan factory. This hard work paid off tenfold in 1908 when William C. Durant of General Motors purchased the company's stock and took over the operation within a year's time.
GMC's truck production flourished after the first Rapid truck made headlines in 1909 when it successfully climbed to the top of Pikes Peak. In 1912, the GMC logo made its official debut on the truck. Over the next several years, GMC perfected the truck's design and saw their efforts pay off in 1917 when their three-quarter-ton Model 16 was adopted by the United States Army to use in World War I. This success foreshadowed GMC's role in the efforts of World War II, during which time they produced six-wheel drive military trucks.
Following the war, GMC redesigned the truck to attract more buyers and saw their efforts pay off as Americans remained loyal to the GMC brand. This trend continued throughout the next several decades as GMC's trucks reflected the company's commitment to innovation, performance, durability, reliability, and ruggedness. These traits are exactly what we find today in the newest lineup of trucks. So, what do the 2021 models from one of America's iconic truck manufacturers have to offer?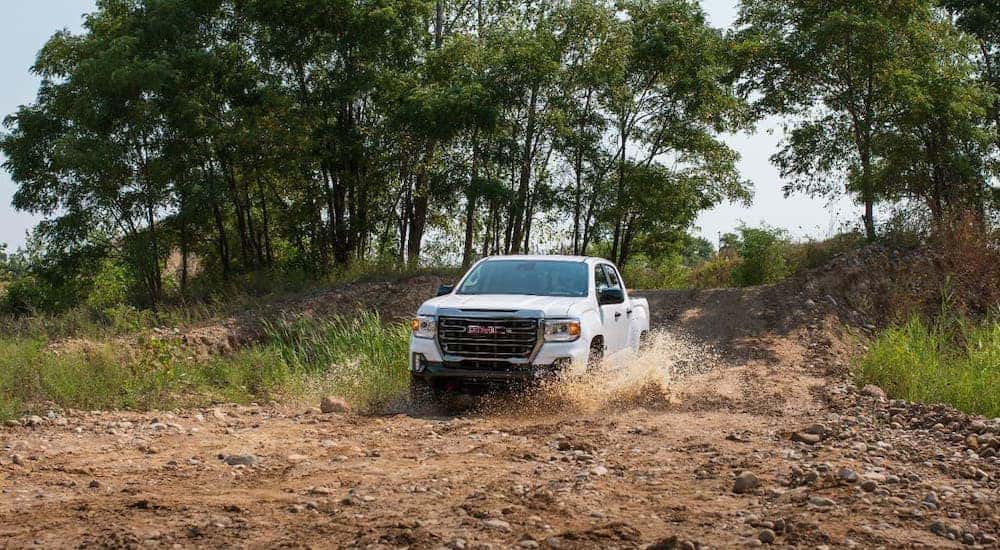 The 2021 GMC Canyon
GMC's truck lineup starts with the midsize Canyon, which offers rugged capability and plenty of interior comfort and convenience across its four trim options—the Canyon ($26,400), Elevation ($30,000), AT4 ($38,200), and Denali ($40,900). The trims offer a variety of features ranging from enhanced safety and driver-assistance technology to heated and ventilated leather seats. The AT4 trim is new for 2021 and is off-road ready, which makes it a popular option for drivers looking to venture off the pavement and onto the trail.
When it comes to power, the Canyon delivers. It comes standard with a 2.5-liter engine that delivers 200 horsepower and 191 lb-ft of torque. If you're looking for more power, we suggest upgrading to the 3.6-liter V6 or the 2.8-liter Duramax turbodiesel. The V6 produces 308 horsepower and 275 lb-ft of torque with a maximum trailering capacity of 7,000 lbs. While the diesel delivers only 181 horsepower, it makes up for it with a 369 lb-ft torque rating that increases its trailering capacity to 7,700 lbs.
Overall, the Canyon is a great mid-size option from GMC. Its smaller size makes it nimble and easy to handle in busy cities and tight spaces. However, with trim packages like the AT4, there are plenty of options to take the Canyon out of the city and down a dirt road for a muddy adventure.
The 2021 GMC Sierra 1500
The 2021 Sierra 1500 is next in the GMC lineup and offers even more options than the Canyon. The full-size truck starts at $30,000 and is available in the SLE ($40,400), Elevation ($42,100), SLT ($44,300), AT4 ($54,300), and Denali ($56,600) trims. The trim packages offer a unique set of features and available upgrades like the trailer-assistance package or the off-road package, both of which add to the Sierra's reputation for being a rugged workhorse capable of tackling any obstacle.
Drivers who like to have plenty of options certainly get that with the 1500's powertrain lineup. The Sierra offers five engines (4.3-liter V6, 2.7-liter turbo, 5.3-liter EcoTec3 V8, 6.2-liter EcoTec3 V8, and 3.0-liter Duramax turbodiesel), three transmissions, and rear or all-wheel drive. These combinations deliver anywhere between 277 and 420 horsepower and 305 to 460 lb-ft of torque. This power translates to impressive capability with the half-ton capable of towing a maximum of 11,800 lbs.
Rugged, durable, and capable, the Sierra 1500 is a great choice for drivers who need a half-ton truck that they can outfit to their needs. The customization options from the trim, powertrain, and transmission to upgrades like the AT4 off-road package are designed to meet a variety of needs. Then, when you add in the many standard tech, safety, and convenience features—like the GMC infotainment system, navigation, and driver-assist features like blind-spot monitoring—it's easy to see why so many drivers choose the Sierra as their everyday work truck.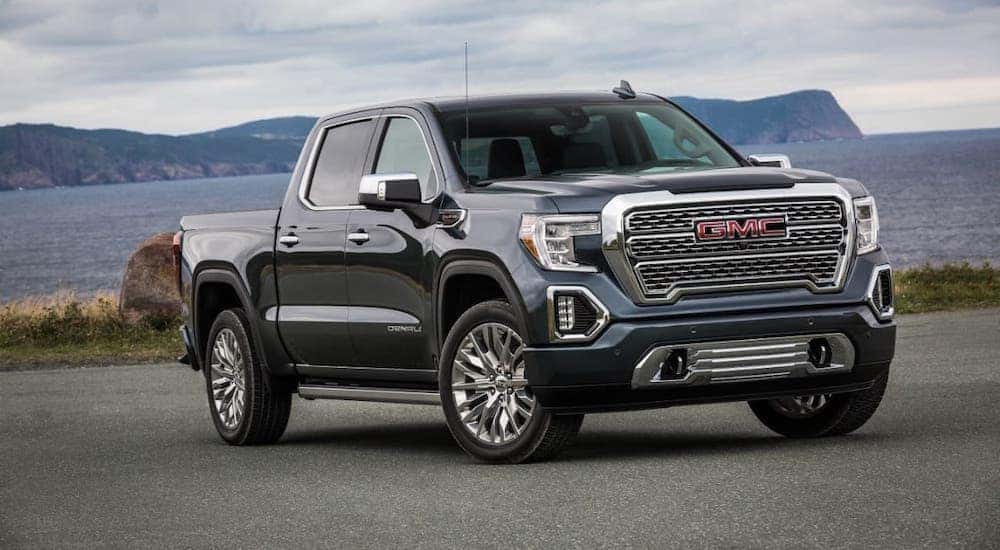 The 2021 GMC Sierra Heavy Duty Trucks
The biggest beast in the GMC lineup is the 2021 Sierra HD, which starts at $36,100. Offering exceptional performance and a long list of features that make it one of the top heavy-duty trucks on the road, the Sierra HD is available in fives trims, including the base model Sierra ($36,100), SLE ($41,200), SLT ($54,000), AT4 ($59,500), and the Denali ($65,500). Like the Canyon and Sierra, these trim options give drivers a variety of features designed to meet various needs like the off-road capable AT4 or the luxurious Denali package that includes leather seats and more!
Unlike the other trucks in the GMC lineup, the HD comes with only two powertrain options. The HD comes standard with a 6.6-liter V8 engine that delivers 401 horsepower and 464 lb-ft of torque with a 6-speed automatic transmission. Drivers who prefer diesel can upgrade to the 6.6-liter Duramax V8 that produces 445 horsepower and 910 lb-ft of torque with an Allison 10-speed automatic transmission. These combinations push the HD's capability even further with a maximum payload of 7,442 lbs and a maximum towing capacity of 36,000 lbs depending on the powertrain and trailering package.
The HD is designed for exactly that—heavy-duty work—and that's why so many are anxious to get behind the wheel of GMC's biggest workhorse. What's even more attractive is that the HD isn't just your everyday work truck. It also offers some of the most advanced technology and convenience features to make any time you spend in the truck enjoyable and efficient, from the new trailering technology to driver-assistance features like the 15-angle camera system.
Choosing Your GMC Truck
There's no question that GMC trucks are among the best-selling in the country thanks to their rich history that spans both World Wars to the present day. As you shop for your next GMC truck, you'll discover GMC's commitment to innovation as seen in the suite of technology and safety features that are standard on every GMC model. You'll also see firsthand how GMC has proven that heavy-duty trucks can offer both comfort and power in their iconic Denali lineup that offers more luxury than you can imagine. Don't believe us? Visit us, your Atlanta truck dealer, and see for yourself.