5 of Our Favorite Off-Road Trails Near Atlanta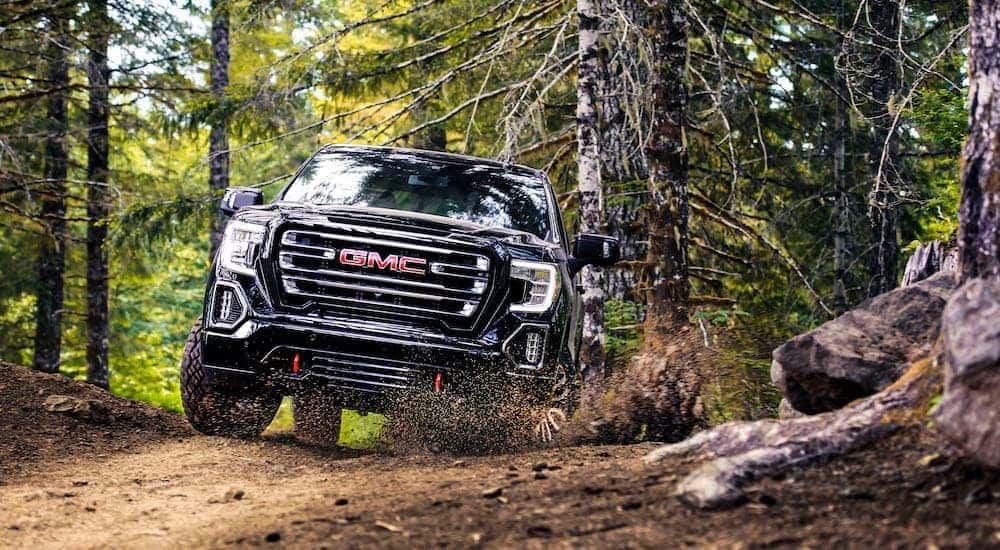 Here's a situation we encounter a lot: someone wants a great 4WD vehicle to take off-road near Atlanta, so they search "GMC dealer near me," come to us, we help them find the perfect model for their needs, and as we hand them the keys they ask, "So where are some great off-road trails?" That's a great question and one that might not be as easy to answer as you first expect, especially for a wide range of drivers. We asked around and talked to some of our off-road fans here at Rick Hendrick Buick GMC Duluth, and they gave us some great answers.
There's some good news and some bad news here, however, so let's get the bad news out of the way first: you're going to have to drive a bit to find a good off-road trail. You won't be able to find an amazing off-road trail 10 minutes from your door here in Atlanta, but the good news is that there are some fantastic options here in Georgia. You're just going to have to drive a while before you get there, so make sure you plan your day accordingly.
Getting Started with Off-Road Driving
Once you drive away from your GMC dealer near you, before you hit the trail, make sure you are prepared. Do some research into each of these trails and either printout or buy a map, so you know exactly where you are going. Also, make sure you know your skill level and limits as a driver – while it's fun to push yourself with a new challenge, you don't want to find yourself in a dangerous situation because you tried to tackle a trail beyond your experience.
Before you set off for a day of off-roading, always let someone else know where you're going and when you should be back – and stick to that plan. Make sure you have emergency supplies with you just in case things go wrong, including warm clothes, blankets, water, some non-perishable food, and a first aid kit. Finally, remember to have fun: at the end of the day, that's what going off-road is all about.
Trail #1: Beasley Knob OHV Trail
Pretty much all of our favorite trails are north of Atlanta, and this first one is easy to get to: just take 19 north until you get to Blairsville, and the start is only a couple miles from there. Beasley Knob is a fantastic trail that runs more than 10 miles in length. It can be challenging, so this might not be the best choice for your very first run. But, if you are experienced with going off-road, then this is a great choice.
The trail is gorgeous. You do have to pay to enter, but it's inexpensive, and the permit lasts you the whole day. Motorcycles and ATVs are also allowed on this trail, so be mindful of others on the road. But this still is a perfect choice for an off-road SUV or truck. One thing to be aware of is that the trail is open from sunrise to sunset, with no night driving allowed. Poor weather and heavy rains often close this trail, so it's a good idea to call ahead and make sure they are open before you make the trip.
Trail #2: Sarah's Creek Road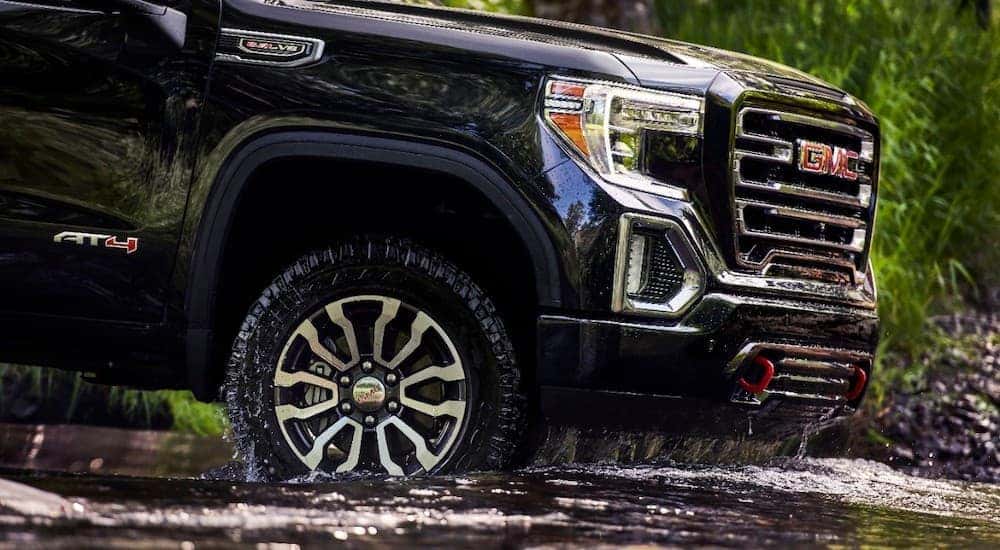 This trail is a bit further east than the Beasley Knob OHV Trail but is a great starting option if you do not have a lot of experience with off-road driving. Located near Clayton, Sarah's Creek Road is about nine miles long and offers gorgeous surroundings, including some hidden but beautiful waterfalls. A lot of people consider this a great beginner's option, and there are some campgrounds in the area if you want to stay the night.
One thing of note with this trail is that there are a few spots where you will need to cross water. As long as you have decent clearance beneath your off-road vehicle, this should not be a problem. This is an excellent trail for getting out of town and experiencing the raw beauty of nature.
Trail #3: Horseshoe Ridge Road
If you're looking for something a little closer to home, this trail is north of Atlanta but closer to Dahlonega, which you can reach on the 19. Also referred to as "Grassy Gap Road" on some maps, Horseshoe Ridge Road is considered of moderate difficulty but is an excellent choice for a lot of beginner off-road drivers too. There are a lot of areas where you do not even need 4WD, though it certainly makes the trail a lot easier to handle.
One factor to consider is that this trail does have a lot of rocks to deal with. As such, you want to be sure you choose a GMC with plenty of clearance to be able to handle those rocks without damaging your vehicle. Otherwise, this is about eight miles of trail with a lot of nearby hiking paths to enjoy too.
Trail #4: Currahee Mountain Trail
Here's another option if you're willing to go north and further east, as it is located near Toccoa and will take more driving to get there. Your reward for doing so is an experience unlike any other since this is basically a rough, gravel road up the mountain. Currahee Mountain was well-known as part of basic training for a lot of Army soldiers in World War II, who would have to reach the top on foot as part of their training. We suggest taking your GMC up the road instead.
Be aware, however, that the trail is still used by horses, as well as a lot of hikers and runners. As you drive up and back down, be on the lookout for hikers who might not see you (it is an exhausting climb, and they might be a bit out of it on their way down). The view from the top is absolutely stunning and well worth the trip. Although some consider this trail of moderate difficulty, it is a pretty easy task for a good GMC with 4WD.
Trail #5: Rocky Flats OHV Trails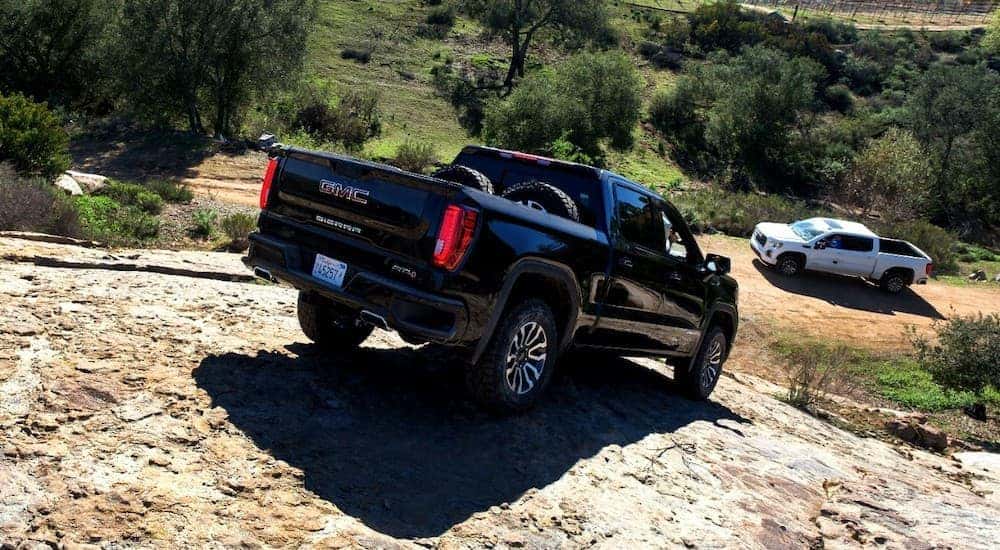 If you want to go north and a bit west, then you should check out Rocky Flats OHV trails, located near Chatsworth. This is a 3.4-mile trail that is used by ATVs, mountain bikes, and 4WD vehicles, as well as hikers, with stunning views of the forest all around you. Due to some sharp curves and the rough terrain, this can be a pretty challenging trail, especially for drivers who are still getting used to off-road conditions.
Recently, the trail has been closed due to a sinkhole caused by flood damage, so make sure you call ahead to see if they are open before you head up. Since most of this trail is a multi-purpose road where a lot of vehicles are allowed, be sure to watch for others on ATVs as well as in other 4WD vehicles. The trail is fairly short, compared to some others, so this is an excellent option if you do not have a full day to commit to off-road driving.
Stay Safe and Have Fun!
As a GMC dealer near you, we want you to enjoy your vehicle, especially the powerful and rugged off-road models offered by GMC. Just be sure to always remain safe both when preparing for a trip and while out in the wilderness. We want to see you coming back to us for years to come, and we are always happy to answer any questions you might have about off-road models, accessories, and the off-road lifestyle.