Performance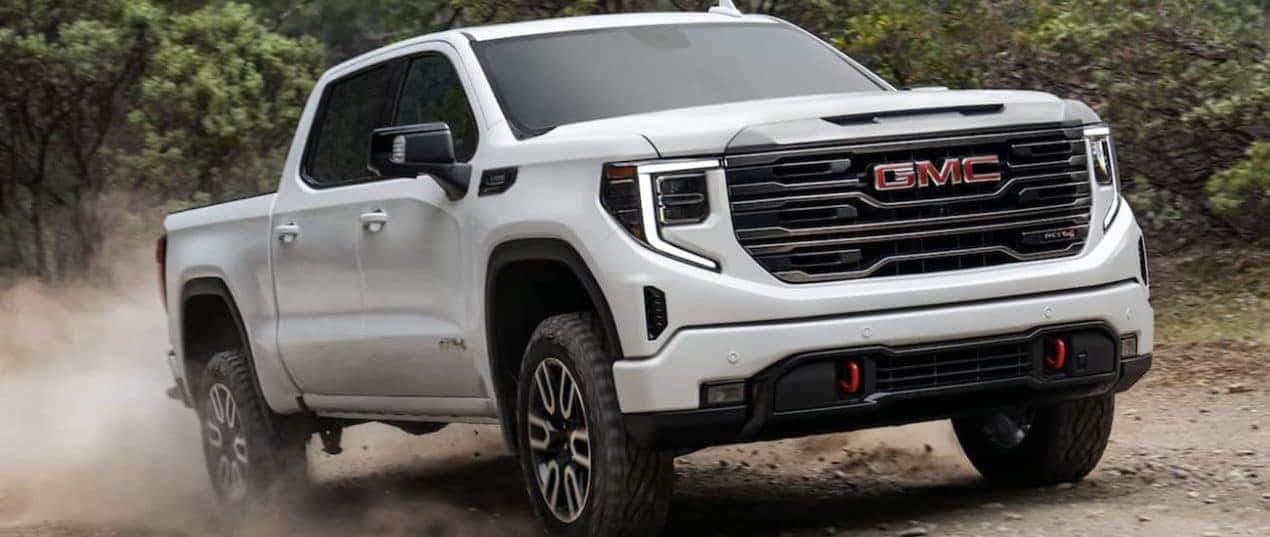 Engine Options
The 2023 Sierra 2500 HD AT4 comes standard with a gas-powered V8 engine that is paired with a six-speed automatic transmission and can deliver an impressive 401 hp and 464 lb-ft of torque. But if you want the maximum possible capability, you can opt for the Duramax turbo-diesel V8, which ups those stats to 445 hp and a whopping 910 lb-ft of torque. This option comes with a variable-speed cooling fan to keep heat from getting out of hand, an intelligent diesel exhaust brake system, and 11.5-inch rear axle ring gears that give you the right balance between performance, towing capability, and overall efficiency. It also comes with an Allison ten-speed automatic transmission designed to let the engine operate in its optimal range under a wide variety of load conditions.
Towing and Payload
The 2023 Sierra 2500 HD can tow up to 18,510 lbs. This gives you the power to bring just about anything you can think of along with you on your off-road adventure, from ATVs or a boat to a fully decked-out camper for glamping in style at one of the many gorgeous National Parks across the great state of Georgia. The truck can also carry up to 3,979 lbs of payload. To put that into perspective, it's nearly double the 2,240 lb payload capacity of the 2023 Sierra 1500. So you can load up the bed with all kinds of gear, cargo, and off-road toys, knowing that this capable truck will be able to handle it safely.
Chassis and Suspension
To make a truck truly off-road ready, it needs some upgrades geared toward protecting all of the vehicle's vital mechanics and the passengers inside. For starters, the AT4 has higher ground clearance than other Sierra 2500 HD trims, so stray rocks and uneven terrain are less likely to scrape against the undercarriage. Skid plates provide even more underbody protection. The AT4's chassis is built from high-strength steel, and the off-road suspension features Rancho shocks that keep the driver and passengers comfortable no matter how rocky the road gets.
Exterior

MultiPro Tailgate
GMC's MultiPro tailgate is a versatile feature that can be just as useful for off-road adventures as for blue-collar work. It has six different functions that are designed to improve loading and unloading, accessing cargo, and using the bed as a mobile workstation. Let's take a look at each of these functions and what it can do:
Primary Gate: the main gate of the pickup, which can be opened either manually or via the key fob's power release function.
Primary Gate Load Stop: a piece that folds up from the primary gate while it's open, creating a load stop that allows you to secure items that are too long to fit in the bed with the gate closed.
Easy Access: an inner gate within the primary gate can be folded down to let you get closer to the bed while loading and unloading.
Full-Width Step: the inner gate can also be folded out into a large step with a capacity of 375 lbs, which makes it easy to climb into and out of the bed.
Inner Gate Load Stop: similar to the primary gate load stop, except this one can be put in place when the primary gate is closed, allowing for items on the lower tier to be held firmly in place while items on the upper tier can securely hang out past the dimensions of the bed.
Inner Gate Work Surface: the final function of the inner gate is to provide a flat work surface that's at a more comfortable height than the floor of the bed.
Step Right Up
Along the sides of the Sierra 2500 HD AT4 are high clearance steps that provide easy access to the interior without being so low that they get in the way during off-roading. Back by the rear wheels, there's another step that's a bit higher up. This one gives you an additional way to access cargo in the bed, allowing you to come up over the side to reach items closer to the cab.
Technology

Camera Views
When exploring unknown terrain, it's vital that you have full awareness of your surroundings. The 2023 Sierra 2500 HD AT4 can help with 15 available camera views that let you keep track of your truck, trailer, and the surrounding area. With Transparent Trailer View, you can see what's going on behind you while a trailer is hitched up in the back, and Hitch View gives you a close-up on how well that hitch is holding up so you can notice any potential problems before it's too late. Bed View helps you line up properly while hitching up a trailer, and it can also show you if you've picked up any stowaway critters while driving through the great outdoors.
Front Camera View lets you see the area in front of your truck, so you don't miss anything that's too low to see from the driver's seat. Surround View gives you a complete picture of what's going on around your truck, creating a composite bird's eye view. It also features a Jack-Knife Alert that can let you know if your trailer is at a dangerous angle. Rear Side View with Trailer Length Indicator can help you safely change lanes while towing on the freeway.
Head-Up Display
Keeping your eyes on the road while driving is always important, but it's even more vital when you're off-roading. However, sometimes you need to be able to check information like your speed, navigation directions, and various safety alerts. With the available head-up display, info like this is projected directly onto your windshield, so you don't have to look away to check the truck's screen. The display is fully transparent, so you can still see the road ahead of you, and you can easily turn it on and off with the press of a button.
ProGrade Trailering System
Trailering adds extra weight and variables that can lead to dangerous situations if you're not careful. That's why GMC has loaded the Sierra HD with advanced trailering features that can help you hitch up your trailer securely and stay in control at all times while towing, even if the terrain or weather is less than ideal. Some of these features can be accessed through the vehicle's interface, while others work with the myGMC mobile app.
Before you head out, you can use the myGMC app to prepare for your drive. The pre-departure checklist feature lets you create a customized list that you can review before you head out, ensuring that you don't forget anything. You can also use the app to remotely activate the trailer's lights, making sure that they're all hooked up and in good working order.
The in-vehicle trailering app lets you create up to five custom trailer profiles, so you don't have to re-enter all of the details every time you switch between trailers. The available trailer tire pressure monitoring system measures pressure and temperature. The system will also give you maintenance reminders and keep track of trailer mileage and fuel economy.
Driver-Assistance Features
Along with all of its specialized systems, the Sierra HD can be had with a comprehensive suite of more conventional driver-assistance technology. This includes features that make highway driving easier, like Lane Departure Warning, Side Blind Zone Alert, and Forward Collision Alert. You can also opt for IntelliBeam auto high beams, which can come in handy on dark rural roads. Instead of having to manually turn the high beams on and off to avoid blinding oncoming drivers, you can set the system to automatic and let it adjust as traffic conditions change.