2022 GMC Sierra Denali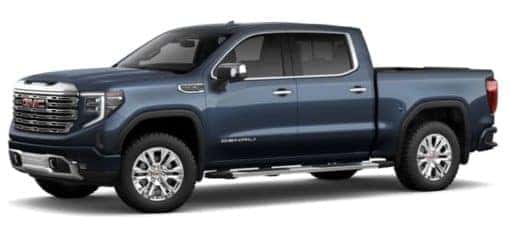 Starting at
$62,800[a]
2022 GMC Sierra Denali Ultimate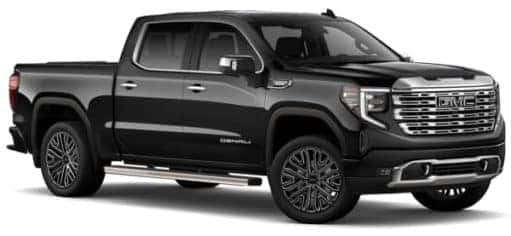 Starting at
$81,900[a]
| | | |
| --- | --- | --- |
| 5.3L V8 | Standard Engine | 6.2L V8 |
| Avl. | CarbonPro Bed | Std. |
| 7-Speaker Bose | Sound System | 12-Speaker Bose |
The Denali name is synonymous with luxury in the GMC lineup, but the automaker continues to raise the bar to deliver next-level luxury to its loyal customers. For 2022, this luxury comes from the all-new Denali Ultimate trim on the Sierra 1500. Marketed as the most advanced and luxurious Denali ever built, it lives up to the hype and is ideal for those looking for true opulence in a workhorse. But how does it compare to its standard Denali counterpart? That's what we're here to answer as we compare the 2022 GMC Sierra 1500 Denali vs 2022 GMC Sierra 1500 Denali Ultimate.
Both trucks are truly impressive, which means there's no clear winner as to which is better. Instead, it comes down to your budget and what you're looking for in a GMC truck. For example, the Sierra 1500 Denali is an exceptional value and delivers plenty of luxury and cutting-edge technology for a starting price of $62,800.[a] However, the Denali Ultimate takes this luxury to new heights and raises its starting price to $81,900.[a]
So, how can you decide between the two? Comparing the models reveals critical differences, showcasing how GMC raises the bar with its Denali lineup. You'll find both drastic and subtle differences in design, power, performance, and technology, all of which give you plenty of ways to choose the best truck for your needs. But whichever one you choose, you're getting a reliable and capable workhorse that prioritizes your comfort with an array of luxuries, conveniences, and cutting-edge technology fit for any king or queen of the road.
Exterior

Refined Aesthetics
The 2022 Sierra 1500 Denali and the Denali Ultimate exude sophistication in unique ways. On the Sierra 1500 Denali, the truck boasts a modern front grille finished in chrome, GMC and Denali badging, and signature C-shaped headlights that immediately distinguish it on the road. In addition, chrome detailing around the windows, door handles, and wheels ties the design together and gives the truck a genuine air of luxury. Although the Denali comes standard with 20-inch multi-dimensional polished aluminum wheels, you have plenty of options to customize the Denali to your style. For example, GMC offers several 22-inch wheel designs, including wheels with bright chrome inserts or those finished in high gloss black, carbon flash metallic, or polished aluminum.
The Denali Ultimate expands GMC's approach to luxury and promises to be the most advanced and opulent Denali ever built. So, how does GMC deliver? The Denali Ultimate distinguishes itself with a larger and broader front grille finished in GMC's exclusive Vader chrome, which is slightly darker than the chrome on the Denali. The front GMC badge is also chrome rather than red, giving the front of the Denali Ultimate an imposing yet refined aesthetic.
Attention to Detail
The Denali Ultimate also pays keen attention to details. You'll find the background of the unique Ultimate includes a topographical map of Mount Denali, the highest mountain in North America and the truck's legendary namesake. Other distinguishing features include exclusive 22-inch wheels in low gloss black with machined accents and standard MultiPro power assist steps that make ingress and egress easier. On the Sierra 1500 Denali, these power assist steps are an available upgrade, but fixed steps come standard.
Moving to the rear, the Denali and Denali Ultimate both come standard with GMC's revolutionary MultiPro tailgate but further distinguish themselves with unique options. For example, the Denali comes with GMC's standard truck bed, which you can upgrade to the carbon fiber composite bed with the integrated MultiPro Audio System from Kicker. In contrast, the Denali Ultimate comes standard with the CarbonPro bed and offers a best-in-class short-bed cargo volume that gives the premium truck an edge over the competition and means no longer sacrificing luxury for capability.
Performance

Robust Engine Options
When it comes to workhorses, you can't go wrong with the 2022 GMC Sierra 1500 in either the Denali or Denali Ultimate trim. GMC trucks are renowned for their robust engine lineup, which means you have plenty of powerful choices regardless of the trim. So, what are your options, and what distinguishes the Denali Ultimate from the Denali in terms of power?
The 2022 Sierra 1500 Denali comes standard with GMC's proven 5.3L V8 engine and 10-speed automatic transmission, a combination that delivers 355 hp and 383 lb-ft of torque. Capable of towing up to 11,200 lbs and supporting a payload of 2,240 lbs, the 5.3L power plant is also efficient. It is rated for up to 18 MPG combined on 2WD models or 17 MPG combined on 4WD models. You won't find the 5.3L in the Denali Ultimate lineup, but you can equip the Denali with either of the Denali Ultimate's two engine options.
Two Upgraded Engines
The Denali Ultimate skips the 5.3L entirely and heads straight for the powerhouse, making the 6.2L EcoTec3 V8 its standard power plant. Mated to a 10-speed automatic transmission, the 6.2L V8 delivers 420 hp, 460 lb-ft of torque, and a towing capacity of up to 13,000 lbs. Surprisingly, this power doesn't come at the cost of efficiency, with a rated fuel economy of up to 17 MPG combined.
GMC doesn't forget diesel fans and offers its 3.0L Duramax Turbo-Diesel on the Denali and Denali Ultimate. Also mated to a 10-speed automatic transmission with Electronic Precision Shift, the Duramax is one of the most efficient and capable options in the segment. It delivers 460 lb-ft of torque for exceptional low-end power when pushing the truck to its 13,200-pound towing limit. More importantly, it's incredibly efficient a26 MPG combined on 2WD models or 25 MPG combined on 4WD models.
Features and Details

More Standard Features
It's only fitting that the 2022 Sierra 1500 Denali and Denali Ultimate share many similar features. However, GMC differentiates the models by offering more standard features on the Denali Ultimate. What do we mean?
The 2022 Sierra 1500 Denali comes standard with a 13.4-inch center touchscreen display and a 12.3-inch Driver Information Center. However, to enjoy the latest cutting-edge technology from GMC requires adding the Technology Package, which equips the truck with a Rear Camera Mirror, multi-color 15-inch Head-Up Display, and Adaptive Cruise Control. These features, along with a power sunroof and an all-new 12-speaker Bose Premium surround sound system, come standard on the Denali Ultimate.
Another notable difference between the Denali and Denali Ultimate is the addition of trailering-capable Super Cruise, which is standard on the Denali Ultimate. As a result, the Denali Ultimate is the first truck in the segment to offer a driver-assist tool that can automatically sense the additional drag of a trailer and adjust its performance as needed. This technology delivers an intuitive experience behind the wheel and gives drivers greater confidence when towing a trailer.
Design Differences
Beyond technology, GMC also differentiates the Denali from the Denali Ultimate with subtle design cues. For example, the Denali's interior is finished with Forge perforated leather seating, brushed aluminum trim, and authentic open-pore wood for a refined aesthetic. The power front seats guarantee comfort, but the Denali Ultimate takes this comfort one step further with best-in-class 16-way power-adjustable and massaging front seats for you and your passenger.
The Denali Ultimate features an Alpine Umber interior finished in full-grain leather and open-pore Paldao wood trim throughout the cabin. The trim is stunning and features embossed and laser-etched topographical maps of Mount Denali, mirroring the exterior badging and giving the truck's cabin a bespoke feel. You'll also find the instrument panel, door panels, and console lid are wrapped in leather, showcasing GMC's keen attention to detail to deliver the ultimate in sophistication and opulence.