Everything You Need to Know Before Buying a Used GMC Sierra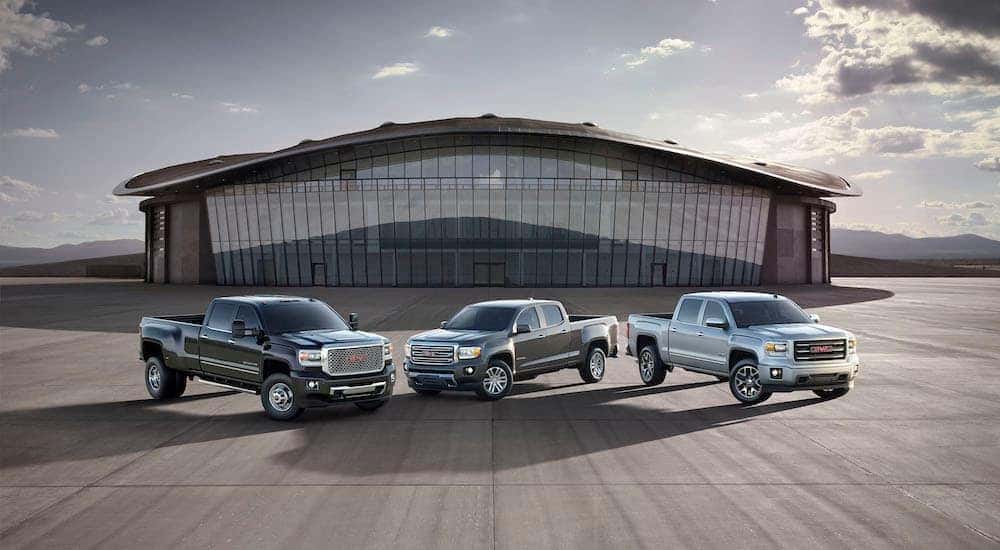 For many, buying a used pickup truck can seem like a hassle. There are a lot of different choices when choosing to buy a used pickup truck. After all, between the models, brands, types, and features, it can all seem to be an endless process. That said, you can't go wrong with buying a used GMC Sierra, but what is it about this light pickup truck that makes it so incredible?
The GMC Sierra is an amazing used pickup truck for a large variety of different reasons. Over the years, the GMC Sierra has been holding up an astounding record of overwhelming performance and undying reliability, so it's naturally a good choice for anybody that wants a long-lasting truck. But that's only the tip of the iceberg, with plenty of different benefits to purchasing this pickup truck model outside of simple performance. Luckily, this article will tell you everything you need to know before buying a used GMC Sierra.
A Quick Overview of the GMC Sierra
The GMC Sierra is a model pickup truck that has a rather long service history. The GMC Sierra started development in 1999 with the 1500, 2500, and 3500 models. With four generations and counting, the GMC Sierra has been a truck defined by evolution and evergreen reliability.
Today, there are a lot of options available for purchasing a used GMC Sierra. Of course, this ranges over a very long range of model years. However, the vast majority are going to be available within the most recent model years, with the 2017 GMC Sierra and 2018 GMC Sierra being incredibly popular. The 2019 GMC Sierra is the most recent model that you can find used; however, the 2020 GMC Sierra are expected to start hitting the used market soon as the 2021 model year starts to pick up steam.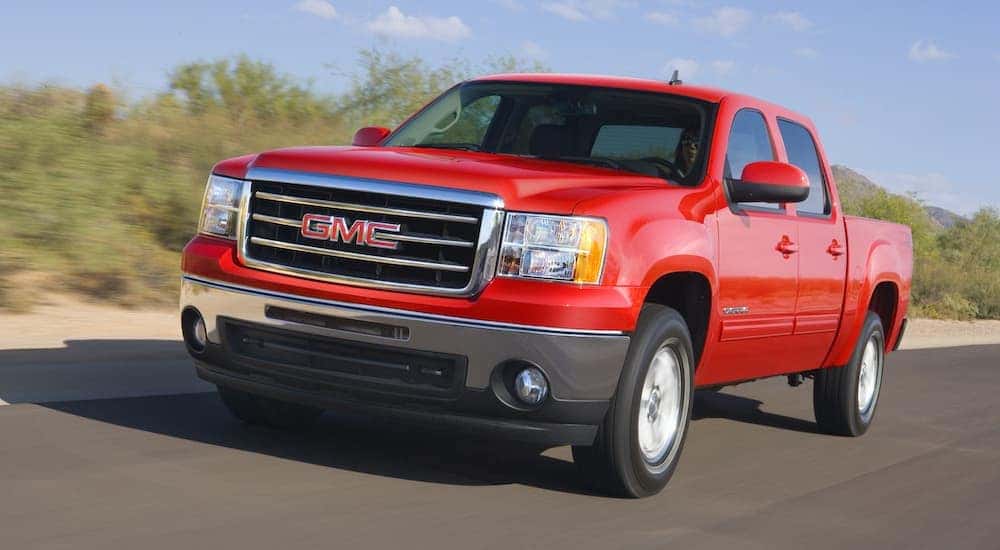 How Well Does the GMC Sierra Perform?
Overall, the GMC Sierra is a pickup truck model that can get whatever job you have done. This truck can be found with horsepower ranging from 195-445, depending on the model year and engine. With an outstanding powertrain capable of boasting this amount of power, the GMC Sierra is an ideal vehicle for any type of off-road excursion or worksite.
The GMC Sierra is also a towing beast. The weakest models of the Sierra 1500 first-generation already pulled an impressive 9,400 lbs, and the towing capacity has only increased over the years. If you need the maximum towing power, look for Sierra 3500 models that are equipped for the optimal towing capacity. While any Sierra 3500 model will give you exceptional towing power, the 2020 model is one of the best, with a maximum of 35,500 lbs. While this powerhouse may be a little difficult to find used, it will be worth it to look for if you need that extra strength.
The GMC Sierra is a truck to meet any need or condition. It has the engine capacity to handle off-road environments as well as a towing capacity above most other pickup trucks in the market. Altogether, the GMC Sierra is a pickup truck that will exceed expectations as far as performance is concerned, no matter what model or series you find.
What About Safety?
Safety is also understandably a concern when buying a used vehicle. After all, used vehicles can't boast the same vehicle safety standards as a new vehicle, so it is often misunderstood that a used pickup truck is dangerous when compared to a newer model. While used vehicles don't always have the same technology as more recent releases, safety doesn't tend to differ that much from model year to model year.
While technology does usually receive a boost from generation to generation, that doesn't mean that used cars are not safe. The GMC Sierra is no exception to this rule, and any of these trucks will protect you in the event of an accident. For example, the 2018 GMC Sierra 1500, part of the third-generation, received a 5-star overall safety rating from NHTSA while the 2012 model received 4 stars.
All of this should not come as a surprise, given that the GMC Sierra has a plethora of safety features available for a used vehicle. With standard features like a rearview camera, and teen driver assistance, available from the 2018 GMC Sierra up, GMC has made a lot of progress in making their pickup trucks far safer. These features are also optional in the 2017 GMC Sierra, in addition to optional features like forward collision warning, parking sensors, and automatic braking. All in all, the GMC Sierra is very safe for a used pickup truck model, combining standard testing and innovative technological features for their time.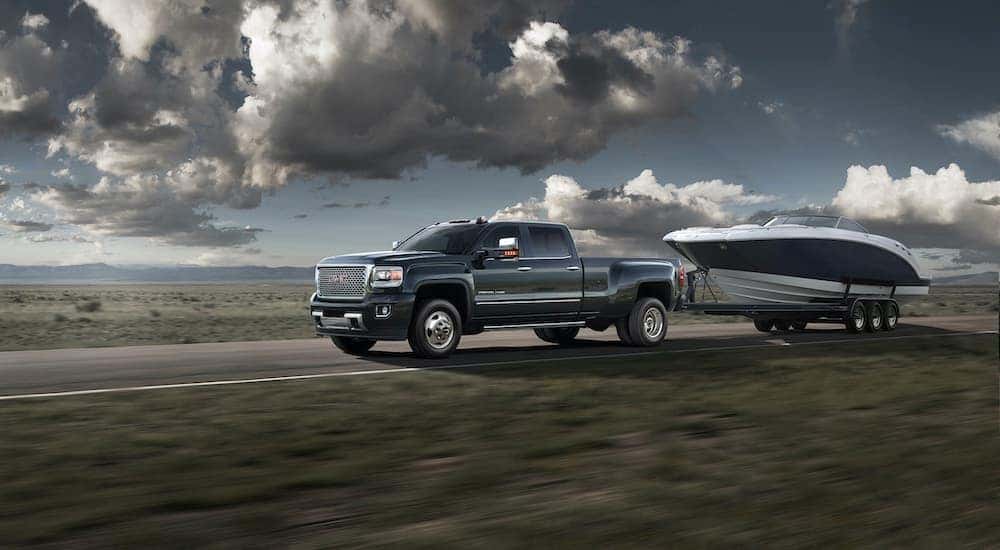 Is It Comfortable?
Comfort is also a large concern when buying a used vehicle. If you plan to do a lot of work in this truck or want to take it off-road, you are going to want something that is comfortable to sit in. With the GMC Sierra being a truck that's built to last, it's no surprise that the comfort was built to last as well.
Although comfort will vary depending on the model year and cabin configuration, there is a lot that sets the GMC Sierra apart from its counterparts on the market. For one, the truck is very spacious. Even if you do fill the Sierra to its limit of 6 passengers, there will still be headroom and legroom to go around. You don't have to worry about feeling cramped on long road trips, even when this truck is packed full. Not to mention, there is plenty of towing capacity for a trailer to put your cargo in on a long trip.
The drive of the GMC Sierra also tends to be smoother than that of other pickup trucks. The pickup truck is easy to handle, making it ideal for first-time truck owners as well as seasoned truck lovers. The GMC Sierra's cabin is also notably quieter than most other trucks in general, making the drive not only comfortable but relaxing. It's easy to settle in behind the wheel and chill out on your daily commute.
Technologically speaking, the used GMC Sierra is not lacking in convenience features either. The design of the newest generation of Sierra models fully utilizes innovations in technology to enhance safety on the outside and comfort on the inside. In a day of technology being everywhere you go, it only makes sense that your truck would be connected as well.
With a fully enhanced infotainment center from at least the 2017 GMC Sierra upward, your driving will not only be efficient but also far more comfortable than without an infotainment center to better control the interior conditions of your truck. Connect your phone and have navigation available to you anywhere with the various programs available across models. With a comfortable and spacious interior and a convenient infotainment center, there is no reason why a used GMC Sierra isn't right for you.
Why Buy a Used GMC Sierra?
In the end, there is a lot that goes into buying a used pickup truck. Choosing a used truck is more cost-effective than buying new, and if you are buying a used GMC Sierra, you know you are getting power and reliability. Able to prove outstanding performance, a more than satisfactory safety record, and the features expected in comfort, the GMC Sierra is an exceptional choice if you're looking for a truly well-rounded pickup truck.
If you are looking for a used GMC Sierra in the Atlanta area, you don't have to look any further than Rick Hendrick Buick GMC Duluth. Our vast inventory of used models includes plenty of used GMC Sierras, and our knowledgeable sales team is ready to tell you all of the best features of each model. Visit us today to get behind the wheel of a reliable, powerful, and comfortable GMC Sierra.