2022 Buick Encore GX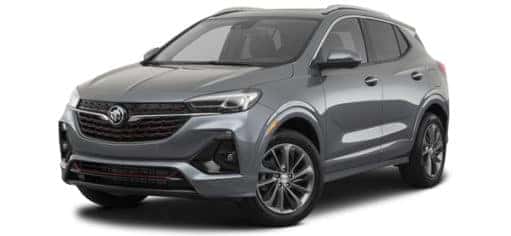 Starting at
$25,995[a]
2022 Ford Bronco Sport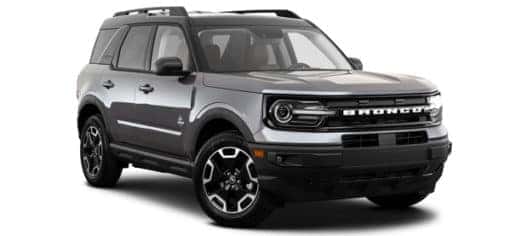 Starting at
$28,165
| | | |
| --- | --- | --- |
| 30 | Fuel Economy (mpg) | 26 |
| 9-Speed | Transmission | 8-Speed |
| 8 | Screen Size (in) | 8 |
If you find yourself swimming in statistics trying to determine which SUV you should buy for your next vehicle, we got you covered. An SUV is a great option for people looking for a vehicle that is as versatile as our lives can be. From your family's daily commuting to needing to do some light-duty towing for household projects to vacationing in the woods, or even just taking a joy-ride through the wilderness to unwind away from the noise of the city, your vehicle needs to be able to keep up with your day-to-day activities. When you drive primarily by yourself, there is no need for you to be looking into the larger SUVs that will give you more space than you will know what to do with, plus make it much harder for you to maneuver in the city for work. This is why we have put together a comparison of two subcompact SUV models that we think will help you decide on your perfect SUV, both of which offer flexibility but in separate styles. Let's take a look at the 2022 Buick Encore GX vs 2022 Ford Bronco Sport.
Exterior

Show the World What You Are All About
A vehicle may be an asset, a tool, an essential machine for our daily undertakings, but that does not mean our vehicles cannot or should not reflect both our lifestyle and our personality. We share our inner selves with the world each day with the clothes we wear and the accessories we flaunt. However, between all of our daily activities, work, school, the grocery store, and social gatherings and family outings, our time is spent hidden in our vehicles. But why should you hide when you can continue to show the world what you are all about with the right vehicle with an exterior design to represent you. When you are ready to find your next SUV to replace your current model, both the 2022 Buick Encore GX and the 2022 Ford Bronco Sport are prime examples of how to let your personality and lifestyle be noticed, reflected through the exterior appearance of your vehicle.
Affordable Luxury
If you are looking to appear as prosperous and accomplished as you feel with your career and your family without the hefty price tag you'll find with other premium SUVs, then the Buick Encore GX is what you are looking for. With three trims to choose from, you will be able to choose your level of comfort and convenience in the cabin and raise the bar on the exterior with available 18-inch aluminum wheels and LED headlights and taillights with the higher levels. Plus, you can choose from eight exterior paints to represent the color of your personality, ranging from two glamorous shades of white to elegant red, blue, or black. There is even a Sunset Glow Metallic orange to turn all the heads you want as you show off the sleek and refined style of the dramatic appearance of the 2022 Buick Encore GX.
Rugged Adventure
If you live a more adventurous life, one with nature or a preference for living spontaneously, and want your SUV to reflect your spur-of-the-moment lifestyle, the 2022 Ford Bronco Sport can do the trick. Its rugged and athletic design is one only an adventurer can adore with its safari-style, long flat roof that is clearly more functional than aesthetically appealing. However, if you are a thrill-seeker, the Bronco Sport may appeal to you with its design resembling the iconic Bronco with a modernized flair. This model is available in four trims that primarily increase its off-road capability rather than style and comfort, with ten exterior color choices which include earthy colors except for the bold Hot Pepper Red, Velocity Blue, and Cyber Orange.
The 2022 Buick Encore GX and the 2022 Ford Bronco Sport are two similar SUV models showcasing two very different styles. Both are very appealing models depending on the reflection you are trying to display. So don't hide inside your vehicle; let the world know who you are, even while you are driving.
Interior
Versatile Cabin Space
The interior of a vehicle is just as important as its shell and its mechanics. With the amount of time you spend in your vehicle each day, you want to make sure you are comfortable with any length of travel. You want to make sure your cabin provides you everything you need while on the road as well, which today requires more than just a roadside kit and blankets. When you are looking for your next vehicle to provide you with the luxuries of both interior space and amenities for both comfort and convenience, an SUV is a perfect place to start. Narrowing it down even further, let's explore the 2022 Buick Encore GX and 2022 Ford Bronco Sport to show you how versatile your cabin space can be, and should be, depending on how you plan on using it.
The Buick Encore GX may only have three trims to choose your comfort and convenience level versus the Ford Bronco Sport's four. However, since Buick is a luxury brand, you will get more premium quality features with the base model Encore GX than you will with the base model Bronco Sport, never mind each level afterward. For example, the 2022 Buick Encore GX has leather seating and heated front seats standard with the second trim level, while the Bronco sport doesn't offer standard heated front and leather seats until its second-highest trim level, the Outer Banks. The Bronco Sport advertises its simplicity, which is represented with the appearance of its cabin––and rightfully so since it is built for the outdoors and for joy-riding on the trail. So if you are looking for a comfortable and relaxing commute to work or to run errands, then the Buick Encore may be a better option for you.
Built For Daily Life
Even though the Bronco Sport's interior may appear quite plain compared to the Encore GX with material quality, it makes up for it with functionality. From being able to tuck your mountain bike into the back of your subcompact SUV to its many cubbies and pockets to hide and store belongings, including zippered pockets behind the front seat and under-seat storage under the rear, the flexibility for cargo storage is impressive in the 2022 Ford Bronco Sport. However, if you are like the majority of us who struggle to get time off and away from house chores for even a week or two a year, all the creative spaces to store survival and camping equipment may not prove to be very beneficial to you.
Both models offer day-to-day conveniences like the 40/60-split rear seats for flexibility regarding essential cargo storage. Plus, conveniences like wireless charging ensure your smartphone never runs out of battery life while staying connected with their smartphone capabilities. But what the Bronco Sport does not offer are premium features like a panoramic moonroof that expands into the back seat allowing even more natural lighting and fresh air into the cabin space. Nor does the Bronco Sport offer Buick's QuietTuning technologies, like Active Noise Cancellation with triple door seals and acoustic laminated glass for the windshield and front windows. These will eliminate any unwanted outside noise to either enjoy your SUV's premium Bose audio system or just take in a moment of peace. The choice is solely up to you.
Performance

Essential Performance
As an essential tool for our daily life, whether for commuting to work or around town running errands or for the weekend or vacation getaways with the family, your vehicle needs to be able to perform. When you need a versatile performance to coincide with a flexible interior to keep up with you, then looking for an SUV is the right choice. However, not every SUV, even if they are part of the same segment, performs the same. You need to pay close attention to their capabilities to find a model suitable for your needs. Prime examples of two great performers in different areas are the 2022 Buick Encore GX and the 2022 Ford Bronco Sport.
With just one look at the Bronco Sport, you can tell it is built for adventure compared to the Encore GX. It appears like it should be driving through the safari or climbing through the mud pits in the backwoods. The Encore GX, however, looks like it belongs on the paved road, cruising the highways or navigating through the city side. Both of their appearances represent their capabilities perfectly.
Efficiency and Capability
Equipped with a smaller and much more efficient engine than the 2022 Ford Bronco Sport, the 2022 Buick Encore GX is still capable of towing up 1,000 pounds with its 155 horsepower and 174 lb-ft of torque. And since the Buick Encore GX is available in both FWD and AWD, you can choose a model to maximize fuel efficiency or performance. With FWD, the Encore GX is rated for 30 MPG combined, and the 27 MPG combined it gets with AWD is still more than the Bronco Sport's best rating of just 26 MPG combined.
Based on appearance alone, it is a given which model will perform better off-road. Even with the available intelligent AWD and StabiliTrak to automatically intervene when your Encore happens to lose traction, you may not want to take it out for an off-roading event. It just isn't built for the rugged terrain. It is built to handle and maneuver around town and the city, as well as the back roads, on sunny days and even in inclement weather. While the Bronco Sport can be used for commuting, it is designed and built for outdoor fun.
Which Is Right for You?
The question you need to answer is which type of SUV is best suited for your needs. Both the 2022 Buick Encore GX and the 2022 Ford Bronco Sport are very capable performers, just on different levels. So determining the type of driving you are going to be doing will help you figure out the kind of performance and capability you are going to need to find in your next SUV. However, most Atlanta-area drivers will find the Encore GX better suited to their daily routine.