Rick Hendrick Buick GMC Duluth Black Friday Sales Event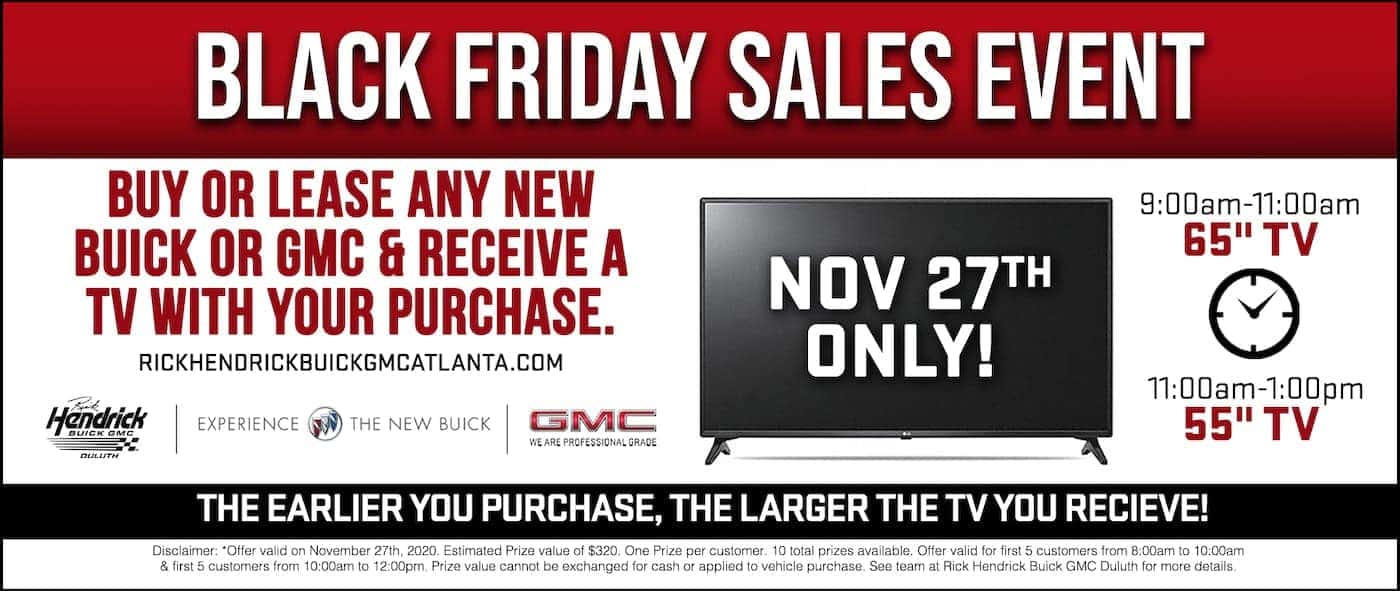 This Black Friday weekend, you have the opportunity to take home a new Buick or GMC vehicle and win a free 65" TV at the same time! Simply pay a visit to Rick Hendrick Buick GMC Duluth and take part in our Black Friday Sales Event! If you buy or lease any new vehicle on November 27th, you could receive a TV as well. It doesn't matter if you have had your eye on a comfortable Buick Envision, a rugged GMC Yukon, a mighty GMC Sierra, or any of our other new vehicles. We are giving away new TVs to our customers on a first-come, first-serve basis.
Just be sure to get up early to enjoy the full benefits of our Black Friday Sales Event – only the first five sales made between 9:00 am and 11:00 am on the 27th are eligible to receive a 65" TV worth $320. However, even if you prefer to sleep in a bit, you can still take home a new TV. The first five sales made between 11:00 am and 1:00 am will also be rewarded with a free 55" TV. But that doesn't mean you can wait because we don't expect these prizes to last long.
Expect the Best With Rick Hendrick
Rick Hendrick Buick GMC Duluth is located at 3244 Commerce Ave NW, right off of Interstate 85. This makes it easy to reach us no matter where you are located in the greater Atlanta area. At our dealership, you will find the full lineup of all the latest Buick and GMC trucks and SUVs, providing you with plenty of options for choosing your next vehicle. However, a large inventory of high-quality vehicles is only the beginning of what you will find when you visit Rick Hendrick Buick GMC Duluth. You will also be met with a friendly and knowledgeable team that can answer any questions that you might have.
Our dealership is here to help you for the long run. Long after our sales event is over, we will continue to provide you with the unmatched service that has made us the #1 Buick Dealership in Georgia. Whether you need answers to your automotive questions or routine maintenance for your new truck or SUV, you can count on our team. You deserve a dealership that will look out for your needs, and here at Rick Hendrick Buick GMC, we are committed to doing exactly that.
Black Friday Sales Event
Buy or Lease ANY New Vehicle & Receive a TV with Purchase!*
November 27th Only! The Earlier You Purchase = The Larger the TV!
Time: 9am-11am: 65″ TV
Time: 11am-1pm: 55″ TV
*Offer valid on November 27th, 2020. Estimated prize value of $320. One Prize per customer. 10 total prizes available. Offer valid for first 5 customers from 8:00am to 10:00am & first 5 customers from 10:00am to 12:00pm. Prize value cannot be exchanged for cash or applied to vehicle purchase. See the team at Rick Hendrick Buick GMC Duluth for more details.