GMC Business Elite in Duluth, GA
At many stores and dealerships, people who are shopping as general consumers and those looking for equipment or vehicles for a business are treated the same. While that might sometimes work, in reality, the needs of a typical customer and the needs of a business can be quite different and often require different methods of problem-solving and service. Here at Rick Hendrick Buick GMC Duluth, we are proud to work with both consumer and commercial customers to help you with anything you need. One of the key ways we do that is with our GMC Business Elite program and all the offers and benefits that it includes.This program is not something we provide to everyone; it is reserved for our commercial customers with business needs that cannot be adequately addressed by other standard programs or offerings. It includes a number of fantastic perks and features that are specifically intended to help your business thrive and accomplish everything you set out to do. If you are not sure if GMC Business Elite is right for you, then take a look at everything it has to offer and see for yourself the ways we can work for you. Or give us a call at Rick Hendrick Buick GMC Duluth to find out more, and we can explain everything we can do to help you succeed.
You Deserve the Elite Treatment
The GMC Business Elite treatment is about more than simply selling you a vehicle for your business. It is about listening to you, working closely with you, and helping you solve a larger problem: what are your business's vehicle needs? What model or models will help you work harder, get things done easier, and thrive on a professional level that you would not be able to otherwise?
Those are big questions that require big solutions; real solutions that involve having someone by your side that is committed to you and to your business's growth and success. That is what this is all about: offering you real solutions to your problems when it comes to the kind of vehicle you need. Whether you are looking for a truck to help you get supplies and equipment to a job site, or you need to build a fleet of vehicles for getting the job done, it is all the same to us. All that really matters, as far as we are concerned, is how we can help make sure you get what you need.
Of course, we use a custom approach to each situation based on what your needs look like, but the size of your business does not impact how hard we work for you. That is what it means to be Elite.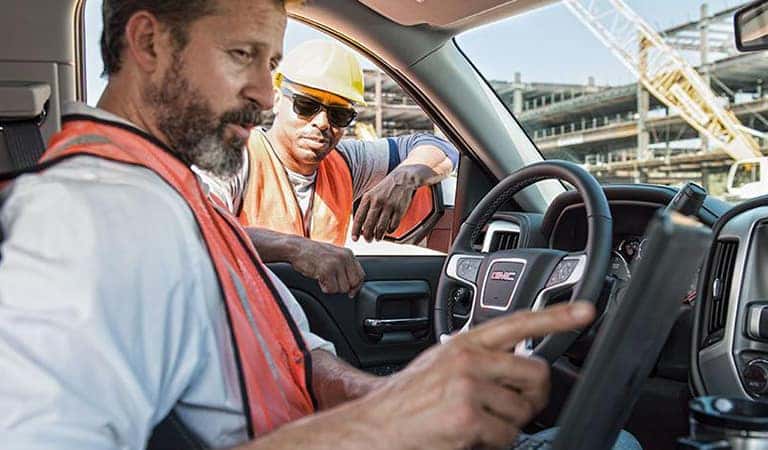 A Business Partner That Works as Hard as You Do
What this really means is that when you become part of the GMC Business Elite, you will find you have a partner that works as hard as you do to make sure you can succeed. You will have a dealer representative here who actually knows who you are, what your business is about, and what kinds of problems you might face. It is our job to not only help you with what you need today but to consider and predict what you might need in the future so that you will always have someone here to help you.
Your business representative will work directly with you to make sure you get the exact right vehicle for what you need. Whether that is a large heavy-duty truck, a fleet of vans for making deliveries, or anything else that helps you get the job done. At the end of the day, our priority is your priority. That means your representative will make custom suggestions for upfits, available features, accessories, and more that can all help you get your job done more effectively, to ensure you know all of the options available to you.
When you are part of the GMC Business Elite program, you also have access to equipment and service outside of standard business hours, with extended service hours only for our Elite members. We understand that problems and issues do not always occur during regular hours and that you might be working when we are normally available to help. This allows us to ensure your business does not miss a beat, and lets us help you meet your deadlines and keep your clients happy. We also offer work-ready loaners if needed while service or repairs are being performed on your vehicle, so you can keep working no matter what.
GMC Pro Grade Protection
One of the most impressive benefits of the GMC Business Elite program, if we do say so ourselves, is the GMC Pro Grade Protection that it provides for your vehicles. We understand that a truck or van that you use for your company is more than just a vehicle; it is an investment in your business. So the Pro Grade Protection on your vehicle is a way for us to help you protect that investment and ensure your vehicle keeps running as well as possible.
This Protection plan includes:
2-year/24,000-mile included maintenance

Oil and filter change
Four-wheel tire rotation
Multi-point vehicle inspection

3-year/36,000-mile bumper-to-bumper limited warranty
5-year/60,000-mile powertrain limited warranty

24-hour Roadside Assistance, which includes round-the-clock towing and courtesy transportation if needed

5-year/100,000-mile powertrain limited warranty for HD diesel pickups

24-hour Roadside Assistance, which includes round-the-clock towing and courtesy transportation for HD diesel pickups
As you can see, the GMC Pro Grade Protection for your vehicle is all about making sure your truck or van, or other model, stays in the best shape possible. We make it easy for you to get service or repairs whenever you need them, and the warranty protection covers these costs for quite a few years. You need to be able to rely on your vehicle whenever you need it, which is why it is so important to keep it well maintained and in the best condition possible.
Here at Rick Hendrick Buick GMC Duluth, our certified service professionals and factory parts department are available to ensure your vehicles can keep working as hard as you do. There is nothing more important when it comes to your business's fleet than knowing where to turn and who to trust when you need work done. And that is exactly what you get with the GMC Business Elite program.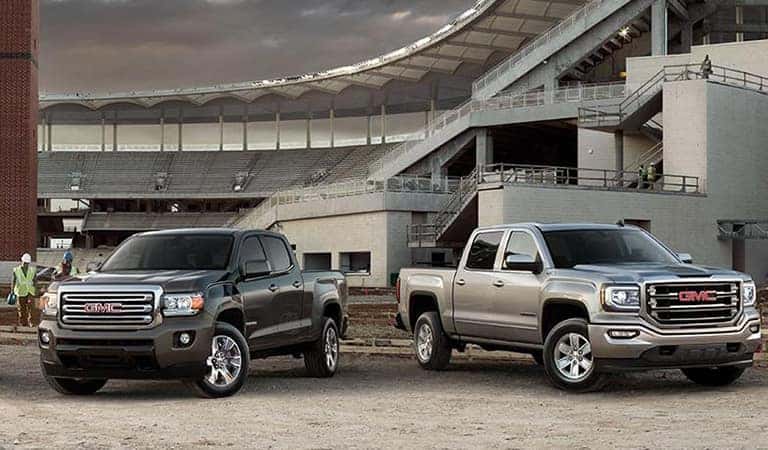 Join the GMC Business Elite
When it comes to working with business owners, we push ourselves to go that extra step to help you succeed. As a business ourselves, we understand how hard it can be to put everything you have into a company and how vital it is to have whatever you need to get your job done. That is why we work as hard as you do, supporting you in every way we can and making sure your vehicles are exactly what you need and are ready to keep working for as long as you need them to. Call or come visit us at Rick Hendrick Buick GMC Duluth today.



Maintenance visits must occur within 2 years or 24,000 miles of vehicle delivery, whichever comes first. Does not include air filters. See participating dealer for other restrictions and complete details.
Whichever comes first. See dealer for limited warranty details.